hgineering News
20th August 1983
Page 18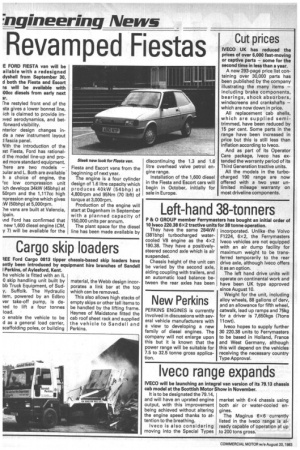 Page 18, 20th August 1983 —
hgineering News
Close
Revamped Fiestas
E FORD FIESTA van will be ailable with a redesigned dyshell from September 30, d both the Fiesta and Escort as will be available with .00cc diesels from early next r.
rhe restyled front end of the sta gives a lower bonnet line, ich is claimed to provide imwed aerodynamics, and betforward visibility.
nterior design changes inde a new instrument layout fascia panel.
Vith the introduction of the .s-t Fiesta, Ford has rationald the model line-up and proed more standard equipment. 'here are two models — pular and L. Both are available. h a choice of engine, the 'cc low compression unit ich develops 34kW (45bhp) at 50rpm and the 1,117cc high npression engine which gives :W (50bhp) at 5,000rpm.
he vans are built at Valencia, ;pain.
knd Ford has confirmed that new 1,600 diesel engine (CM, y 7) will be available for the
Fiesta and Escort vans from the beginning of next year.
The engine is a four cylinder design of 1.6 litre capacity which produces 40kW (54bhp) at 4,800rpm and 95Nm (70 lbft) of torque at 3,000rpm.
Production of the engine will start at Dagenham in September with a planned capacity of 150,000 units per annum.
The plant space for the diesel line has been made available by discontinuing the 1.3 and 1.6 litre overhead valve petrol engine range.
Installation of the 1,600 diesel in the Fiesta and Escort cars will begin in October, initially for sale in Europe.