Motor Panels' cab
20th August 1983
Page 14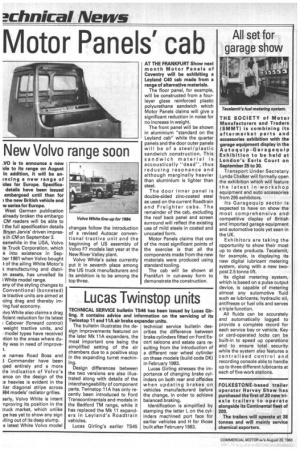 Page 14, 20th August 1983 —
Motor Panels' cab
Close
New Volvo range soon
.VO is to announce a new icle to its range on August In addition, it will be anincing a new range of [des for Europe. Specificadetails have been issued embargoed until then for the new British vehicle and w series for Europe.
West German publication already broken the embargo CM readers will be able to I the full specification details Bryan Jarvis' driven impres s in CMon September 3, eanwhile in the USA, Volvo te Truck Corporation, which e into existence in Sepbier 1981 when Volvo bought t of the ailing White Motor's k manufacturing and distrixi assets, has unveiled its White model range.
any of the styling changes to Conventional (bonneted) te tractive units are aimed at cing drag and thereby irning fuel economy.
alvo White also claims a drag ficient reduction for its latest Cabover (forward control) weight tractive units, and model types have received ition to the areas where duity was in need of improvet.
le names Road Boss and Commander have been Iped entirely and a more tle indication of Volvo's ence on the design of the :e heavies is evident in the liar diagonal stripe across )84 models' radiator grilles.
aarly, Volvo White is intent -nproving its position in the truck market, which unlike pe has yet to show any sign illing out of its deep slump, e latest White Volvo model
changes follow the introduction of a revised Autocar conventional tractive unit and the beginning of US assembly of Volvo F7 models last year at the New River Valley plant.
Volvo White's sales currently put it in seventh place among the US truck manufacturers and its ambition is to be among the top three, AT THE FRANKFURT Show next month Motor Panels of Coventry will be exhibiting a Leyland C40 cab made from a range of alternative materials.
The floor panel, for example, will be constructed from a fourlayer glass reinforced plastic polyurethane sandwich which Motor Panels claims will give a significant reduction in noise for no increase in weight.
The front panel will be shown in aluminium "standard on the Leyland cab" while the quarter panels and the door outer panels will be of a steel/plastic sandwich construction. This sandwich material is accoustically "dead'', thus reducing resonance and although marginally heavier than aluminium is lighter than steel.
The door inner panel is double-sided zinc-coated steel as used on the current Roadtrain and Freighter cabs. The remainder of the cab, excluding the roof back panel and screen surround will reflect the existing use of mild steels in coated and uncoated form.
Motor Panels claims that one of the most significant points of the exercise is that all the components made from the new materials were produced using standard tooling.
The cab will be shown at Frankfurt in cut-away form to demonstrate the construction.