Lucas Twinstop units
20th August 1983
Page 14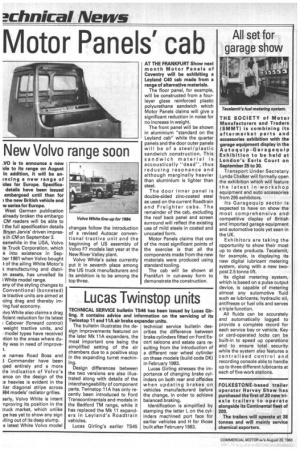 Page 14, 20th August 1983 —
Lucas Twinstop units
Close
TECHNICAL SERVICE bulletin TS46 has been issued by Lucas Girling. It contains advice and information on the servicing of its Twinstop 11 and 11A air brake expander units.
The bulletin illustrates the detechnical service bulletin des sign improvements featured on the later Mk 11A expanders, the most important one being the simplified setting of the air chambers due to a positive stop in the expanding turret machining.
Design differences between the two versions are also illustrated along with details of the interchangeability of component parts. Twinstop 11A has only recently been introduced to Ford Transcontinentals and models in the Bedford TM range, while it has replaced the Mk 11 expanders in Leyland's Roadtrain vehicles.
Lucas Girling's earlier TS45 cribes the difference between brake cylinders fitted on Ford Escort saloons and estate cars resulting from the introduction of a different rear wheel cylinder on these models (build code DK) in February 1983.
Lucas Girling stresses the importance of changing brake cylinders on both rear and offsides when updating brakes on vehicles manufacturerd before the change, in order to achieve balanced braking.
Identification is simplified by stamping the letter L on the cylinders machined port face for earlier vehicles and H for those built after February 1983.