The "Low Down" on Bad Driving for the Army
1st May 1942
Page 32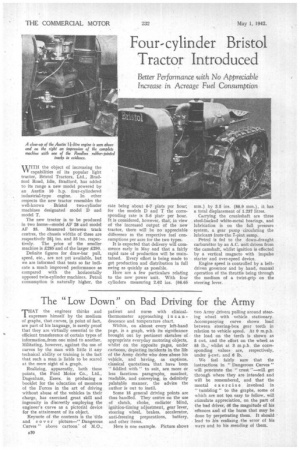 Page 32, 1st May 1942 —
The "Low Down" on Bad Driving for the Army
Close
'THAT the engineer thinks and ▪ I. expresses himself by the medium
of graphs, that curves, in point of fact, are part of his language, is surely proof that they are virtually essential to the ■ efficient transference of certain types of information_from one mind to another. Militating, however, against the use of curves by the man with little if any technical ability or training is the fact that such a man is liable to be scared at the mere sight of a graph.
Realizing, apparently, both these points, the Ford Motor Co., Ltd., Dagenham, Essex, in producing a booklet for the education. of members of the Forces in the art of driving without abuse of the vehicles in their charge, has exercised great skill and ingenuity in discreetly employing the engineer's curve as a pictorial device for the attainment of its object.
Keynote of the contents is the "title and cover picture—" Dangerous Curves " above cartoon of M.O., patient and nurse with clinicalthermometer approaching incandescence and temperature chart.
Within, on almost every left-hand page, is a graph, with its significance brought out by pertinent sketches of appropriate everyday motoring objects. whilst on the opposite pages, under cartoons, depicting incidents in the life of the Army driVer who does abuse his vehicle, and having, as captions, classical quotations that have been " fiddled with " to suit, are more or less facetious paragraphs, succinct, readable, and conveying, in definitely palatable manner, the advice the author is out to instil.
Some 15 general driving points are thus handled. They centre on the use of clutch, choke, radiator blind, ignition-timing adjustment, gear lever, steering wheel, brakes, accelerator, anti-freezing preparations, battery, and other items.
Here is one example. Picture shows two Army drivers pulling around steering wheel with vehicle stationary. Accompanying curve shows load between steering-box gear teeth in relation to vehicle speed. At 0 m.p.h. the load on the teeth is shown as 5 cwt. and the effort on the wheel as 55 lb.,' whilst at 3 m.p.h. the corresponding values are, respectively, under 1.-Cwt. and 6 lb.
We feel fairly sure that the instructions in "Dangerous Curves" will penetrate the ". crust "—will get through where they are intended and will be remembered, and that the mental exercise involved in " tumbling " to the graphs, some of which are not to easy to follow, will stimulate appreciation, on the part of the bad driver, of the magnitude of his offences and of the harm that may be done by perpetrating them. It should lead to his realizing the error of his ways and to his mending of them.