Four-cylinder Bristol Tractor Introduced
1st May 1942
Page 32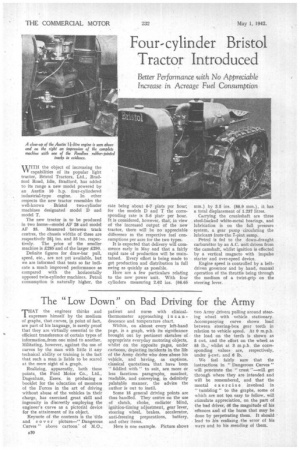 Page 32, 1st May 1942 —
Four-cylinder Bristol Tractor Introduced
Close
AXTITI-I the object of increasing the V capabilities of its popular light tractor, Bristol Tractors, Ltd., Bradford Road, Idle, Bradford, has added to its range a new model powered by. an Austin 10 h.p, four-cylindered industrial-type engine.. In other respects the new tractor resembles the
well-known Bristol two-cylinder machines designated model D and model T.
The new tractor is to be produced in two forms—model AF 28 and model AF 35. Measured between track centres, the chassis widths of these are respectively 28i ins. and 35 ins. respectively. The price of the smaller machine is £.285 and of the larger £.290.
Definite figures for draw-bar pull, speed, etc., are not yet 'available, but we are informed that tests so far indicate a much improved performance as compared with the horizontally apposed twin-cylinder machines. Petrol consumption is naturally higher, the rate being about 8-7 pints per hour; for the models D and T the corresponding rate is 5-6 pintper hour. It is considered, however, that; in view of the increased output of the new tractor, there will be no appreciable difference in the respective fuel consumptions per acre for the two types.
It is expected that delivery will commence early in May and that a fairly rapid rate of production will be maintained. Every effort is being made to get production and distribution in full swing as quickly as possible.
Here are a few particulars relating to the new power unit. With four cylinders measuring 2.62 ins (66.65
mm.) by 3.5 ins. (88.9 mm.), it has a total displacement of 1.237 litres.
Carrying the crankshaft are three steel-backed white-metal hearings, and lubrication is on the full pressure system, a gear pump circulating the lubricant front the 7-pint sump.
Petrol is fed to the down-draught carburetter by an A.C. unit driven from the camshaft, whilst ignition is effected by a vertical magneto with impulse starter and over-speed device.
Engine speed is controlled by a beltdriven governor and by hand, manual operation of the throttle being through the medium of a twist-grip on the steering lever.