New Three-wheeler Answers Retailers' Call
1st May 1942
Page 29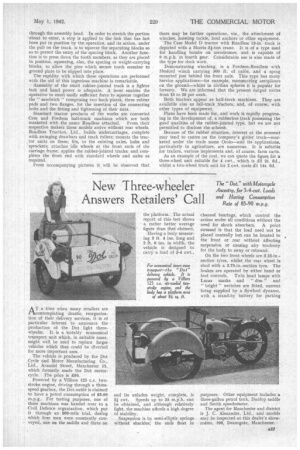 Page 29, 1st May 1942 —
New Three-wheeler Answers Retailers' Call
Close
AT a time when many retailers are contemplating drastic reorganization of their delivery services, it is of particular interest to announce the production of the Dot light threewheeler. It is a hotably economical transport unit which, in suitable cases, might well be used to replace larger vehicles which thui could be diverted for more important uses.
The vehicle is produced by the Dot Cycle and Motor Manufacturing Co., Ltd., Arundel Street, Manchester 15, which formerly made the Dot motorcycle. The price is £95.
Powered by a Villiers 125 c.c. twostroke engine, driving through a threespeed gearbox, the Dot outfit is claimed to have a petrol consumption of 85-90 mpg, For testing purposes, one of these machines was handed over to a Civil Defence organization, which put it through an 300-mile trial, during which four men were constantly conveyed, one on the saddle and three on
and its unladen weight, complete, is 2* cwt. Speeds up to 35 m.p.h. can he obtained, and although relatively light, the machine affords a high degree of stability.
Suspension is by semi-elliptic springs without shackles; the ends float in channel bearings, which control the action under all conditions without the need for shock absorbers. A point stressed is that the load need not be placed centrally but can be located to the front or rear without affecting suspension or causing ahy tendency for the body to sway or rebound.
On the two front wheels are 3.25-in.section tyres, whilst the rear wheel is shod with a 2.75-in.-section tyre. The brakes are operated by either hand or foot controls. Twin head lamps with Lucas masks and " dim " and " bright" switches are fitted, current being supplied by a flywheel dynamo, with a stand-by battery for parking
purposes. Other equipment includes a three-gallon petrol tank, Dunlop saddle and Smith speedometer.
The agent for Manchester and district is J. C. Alexander, Ltd., and models may be inspected at this dealer's showroams, 190, Deansgate, Manchester.