New Side Lamp Incorporating Approved Mask
1st May 1942
Page 25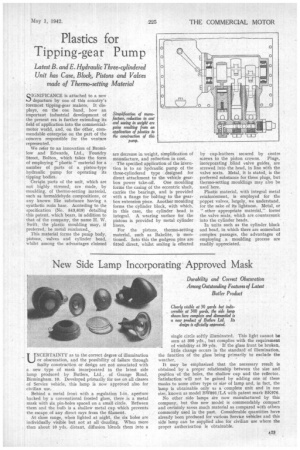 Page 25, 1st May 1942 —
New Side Lamp Incorporating Approved Mask
Close
UNCERTAINTY as to the correct degree of illumination or obscuration, and the possibility of failure throug.h faulty construction or design are not associated with a new type of mask incorporated in the latest side lamp produced by Butlers, Ltd., of Grange Road, Birmingham, 10. Developed primarily for use on all classes of Service vehicle, this lamp is now approved also for civilian use.
Behind a metal front with a regulation 1-in, aperture backed by a conventional frosted glass, there is a metal mask with six pin-holes spaced on a small circle. Between them and the bulb is a shallow metal cup which prevents the escape of any direct rays from the filament. .
At close range, when lighted at night, the six holes are individually visible but not at all dazzling. When more than about 10 yds, distant, diffusion blends them into a
single circle softly illuminated. This light cannot be seen at 300 yds., hut complies with the requirement of visibility at 30 yds. If the glass front be broken, little change occurs in the standard of illumination, the function of the glass being primarily to exclude the weather.
It may be emphasized that the necessary result is obtained by a proper relationship between the size and position of the holes, the shallow cup and the reflector. Satisfaction will not be gained by adding one of these masks to some other type or size of lamp and, in fact, the lump is obtainable only as a complete unit and in one size, known as model 13W891 /LA with patent mark BK976.
No other side lamps are now manufactured by this company, hut this new model is commendably compact and certainly saves much material as compared with others commonly used in the past. Considerable quantities have already been produced for various Service vehicles and this side lamp can be supplied also for civilian use where the proper authorization is obtainable.