Cotton Haulage Price Dispute
1st May 1942
Page 21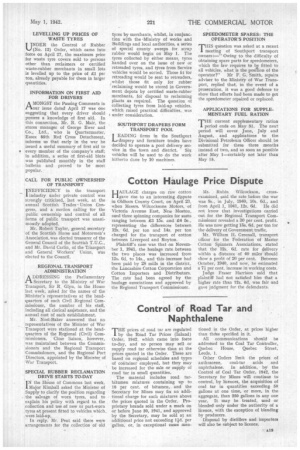 Page 21, 1st May 1942 —
Cotton Haulage Price Dispute
Close
Ha.ULAGE charges on raw cotton gave rise to an interesting dispute in Oldham County Court, on April 23, when Messrs. Wileocksons Motors, of Victoria Avenue East, New Moston, sued three spinning companies for sums ranging between £3 13s. and '44 5s., representing the differences between 12s. 6d, per ton and 14s. per ton charged for the transport of cotton between Liverpool and Royton.
Plaintiff's case was that on November 1, 1941, the haulage rate between the two places was increased from 12s. 6d, to 145., and this increase had been paid by 28 mills in the district, the Lancashire Cotton Corporation and Cotton Importers and Distributors. The rate had been agreed by the haulage associations and approved by the Regional Transport Commissioner. Mr. Rubin Wilcockson, crossexamined, said the rate before the war was 8s., in July, 1940, 10s, 6d., and from April 1, 1941, 12s. 6d. He did Rot know that investigations carried out for the Regional Transport Commissioner revealed a 30 per cent. profit. He was now getting 15s. 6d, per ton for the delivery of Government traffic.
Mr. William H. Greenall, transport officer for the Federation of Master Cotton Spinners Associations, stated that the 12s. 6d. rate for delivery within a distance of 40 miles should show a profit of 20 per cent. Between October, 1940, and now, he estimated a 7:1 per cent increase in working costs.
Judge Fraser Harrison said that plaintiff had not satisfied him that a higher rate than 12s. Gd. was fair and gave jtidgment for the defendants.