Control of Road Tar and Naphthalene
1st May 1942
Page 21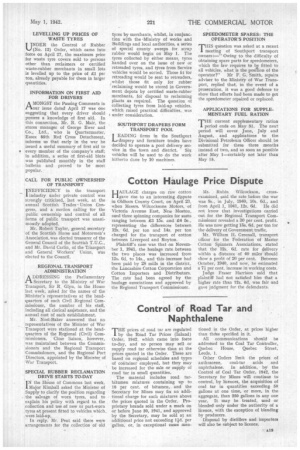 Page 21, 1st May 1942 —
Control of Road Tar and Naphthalene
Close
THE prices of road tar are regulated by the Road Tar Prices (Inland) Order, 1942, which came into force to-day, and no person may sell or supply road tar otherwise than at the prices quoted in the Order. These are based on regional schedules and types of container employed, but they may be increased for the sale or supply of road tar in small quantities.
The material includes road tarbitumen mixtures containing up to 10 per cent. of bitumen, and the Secretary for Mines may fix an additional charge for such mixtures above the prices quoted in the Order. Proprietary brands sold under a mark on or before June 30, 1941, and approved by the Secretary, may be sold at an additional price not exceeding lid. per gallon, or, in exceptional cases men
tioned in the Order, at prices higher than thase specified in it.
All communications should be addressed to the Coal Tar Controller, Quebec House, Quebec Street, Leeds, 1.
Other Orders limit the prices of anthracene, coal-tar acids and naphthalene. In addition, by the Control of Coal Tar Order, 1942, the Secretary for Mines will continue to control, by licences, the acquisition of coal tar in quantities exceeding 50 gallons at one time, or more, in the aggregate, than 250 gallons in any one year. It may he treated, used or blended only under the authority of a licence, with the exception of blending by producers.
Disposal by distillers and importers will also be subject to licence.