One Hears—
1st May 1942
Page 19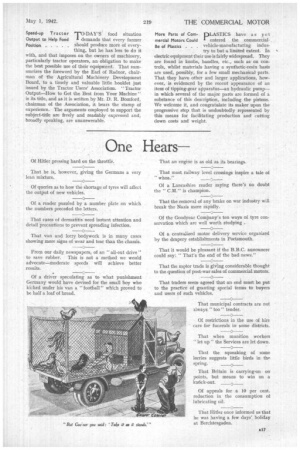 Page 19, 1st May 1942 —
One Hears—
Close
Of Hitler pressing hard on the throttle.
That he is, however, giving the Germans a very lean mixture.
Of queries as to how the shortage of tyres will affect the output of new vehicles, Of a reader puzzled by a number plate on which the numbers preceded the letters.
That cases of dermatitis need instant attention and detail Precautions to prevent spreading infection.
That van and lorry bodywork is in many cases showing more signs of wear and tear than the chassis, From our daily newspapers, of an " all-out drive" to save rubber. This is not a method we would advocate ---moderate speeds will achieve better results.
Of a driver speculating as to what punishment Germany would have devised for the small boy who kicked under his van a football which proved to be half a loaf of bread. That an engine is as old as its bearings.
That most railway level crossings inspire a tale of " whoa."
Of a Lancashire reader saying there's no doubt the " CM." is champion.
That the removal of any brake on war industry will break the Nazis more rapidly.
Of the Goodyear Company's ten ways of tyre conservation which are well worth studying Of a centralized motor delivery service organized by the drapery establishments in Portsmouth.
That it would be pleasant if the B.B.C. announcer could say: " That's the end of the bad-news."
That the motor trade is giving considerable thought to the question of post-war sales of commercial motors.
That traders seem agreed that an end must be put to the practice of granting special terms to buyers and users of such vehicles.
That municipal contracts are not always " too " tender.
Of restrictions in the use of hire cars for funerals in some districts.
That when munition workers "let up" the Services are let down.
That the squeaking of some lorries suggests little birds in the
spring.0
That Britain is carrying-on on points, but means to win on a krrbck-out.
Of appeals for a 10 per cent. reduction in the consumption of lubricating oil.
That Hitler once informed us that he was having a few days' holiday at Berchtesgaden.