Will Tyre Depots Bring Economy?
1st May 1942
Page 17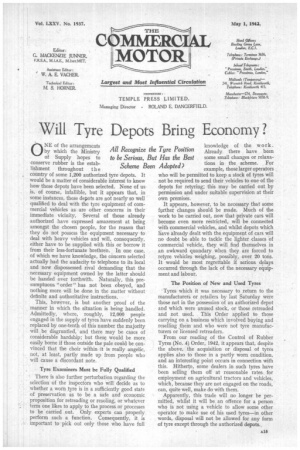 Page 18
Page 17, 1st May 1942 —
Will Tyre Depots Bring Economy?
Close
0 • NE of the arrangements by which the Ministry of Supply hopes to conserve rubber is the establishment throughout t h e country of some 1,200 authorized tyre depots. It would be a matter of considerable interest to know how these depots have been selected. None of us is, of course, infallible, but it appears that, in some instances, these depots are not nearly so well qualified to deal with the tyre equipment of commercial vehicles as are other concerns in their immediate vicinity. Several of those already authorized have expressed amazement at being amongst the chosen people, for the reason that they do not possess the equipment necessary to deal with heavy vehicles and will, consequently, either have to be supplied with this or borrow it from their less-fortunate brethren. In one case, of which we have knowledge, the concern selected actually had the audacity to telephone to its local and now dispossessed rival demanding that the necessary equipment owned by the latter should be handed over forthwith. Naturally, this presumptuous " order " has not been obeyed, and nothing more will be done in the matter without definite and authoritative instructions.
This, however, is but another proof of the manner in which the situation is being handled. Admittedly, where, roughly, 12,000 people engaged in the supply of tyres have suddenly been • replaced by one-tenth of this number the majority will be disgruntled, and there may be cases of considerable hardship; but these would be more easily borne if those outside the pale could be convinced that the choir within it is really angelic, • not, at least, partly made up from people who will cause a discordant note.
Tyre Examiners Must be Fully Qualified There is also further perturbation regarding the selection of the inspectors who will decide as to whether a worn tyre is in a sufficiently good state of preservation as to be a safe and economic proposition for retreading or resoling, or whatever , term one likes to apply to the process or processes to be carried out. Only experts can properly • perform such a function. Consequently, it is important to pick out only those who have full Tyre Position Already there have been Has the Best some small changes or relaxa Adopted? tions in the scheme. For example, those larger operators who will be permitted to keep a stock of tyres will not be required to send their vehicles to one• of the depots for retyring; this may be carried out by permission and under suitable supervision at their own premises.
It appears, however, to be necessary that some further changes should be made. Much of the work to be carried out, now that priyate cars will become even more restricted, will be connected with commercial vehicles, and whilst depots which have already dealt with the equipment of cars will no doubt be able to tackle the lighter classes of commercial vehicle, they will find themselves in an awkward quandary when they are forced to retyre vehicles weighing, possibly, over 20 tons. It would be most regrettable if serious delays occurred through the lack of the necessary equipment and labour.
The Position of New and Used Tyres Tyres which it was necessary to return to the manufacturers or retailers by last Saturday were those not in the possession of an authorized depot and which were unused stock, or those retreaded and not used. This Order applied to those carrying on a business which involved buying and reselling ,them and who were not tyre manufacturers or licensed retreaders.
From our reading of the Control of Rubber Tyres (No. 4) Order, 1942, it appears that, despite the above, the acquisition or disposal of tyres applies also to those in a partly worn condition, and an interesting point occurs in connection with this. Hitherto, some dealers in such tyres have been selling them off at reasonable rates for employment on agricultural tractors and vehicles, which, because they are not engaged on the roads, can, quite well, make do with them.
Apparently, this trade will no longer be permitted, whilst it will be an offence for a person who is not using a vehicle to allow some other operator to make use of his used tyres—in other words, disposal will not be allowed for any form of tyre except through the authorized depots. For many years there has been quite a brisk trade in tyres which, whilst not quite suitable for those who wish for first-class equipment, still possess a considerable potential mileage before retreading will be required, and are, therefore, an economic proposition for the man Vtho does not need to study appearances or whose work is not so important. It seems to us that if such tyres must be handed over to the depots for replacement or for retreading, there will be a wastage of time and the occupying of the depots and their inspectors in trivialities, which could wc11 be dealt with by unregistered tyre dealers.
We know, of course, that the depots will be able to refuse to exchange tyres or to have them retreaded if there still be, in the opinion of their experts, some " life " in them before treatment is necessary, but to cut out all the smaller people at one fell swoop seems a drastic way of accomplishing something which could have been effected in a less wholesale manner.
Some people in the tyre trade have expressed grave doubts as to the value of this new organization, and as to how it can effect any considerable economy. After all, the mere fact that there is now a form of control does not mean that any particular vehicle will wear its tyres to a less extent or will require fewer new covers or retreads, and the comparatively high cost of tyres has itself already forced a considerable measure of economy.