Hancock steps down
1st March 1990
Page 8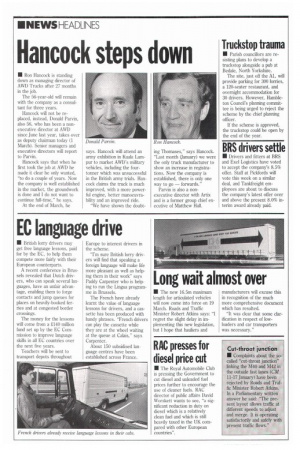 Page 8, 1st March 1990 —
Hancock steps down
Close
• Ron Hancock is standing down as managing director of AWD Trucks after 27 months in the job.
The 56-year-old will remain with the company as a consultant for three years.
Hancock will not be replaced, instead, Donald Parvin, also 56, who has been a nonexecutive director at AWD since June last year, takes over as deputy chairman today (1 March). Senior managers and executive directors will report to Parvin.
Hancock says that when he first took the job at AWE) he made it clear he only wanted, "to do a couple of years. Now the company is well established in the market, the groundwork is done and I do not want to continue full-time," he says.
At the end of March, he says. Hancock will attend an army exhibition in Kuala Lumpur to market AWD's military vehicles, including the fourtonner which was unsuccessful in the British army trials. Hancock claims the truck is much improved, with a more powerful engine, better manoeuvrability and an improved ride.
"We have shown the doubt
ing Thomases," says Hancock. "Last month (January) we were the only truck manufacturer to show an increase in registrations. Now the company is established, there is only one way to go — forwards."
Parvin is also a nonexecutive director with Artix and is a former group chief executive of Matthew Hall.