EC language drive
1st March 1990
Page 8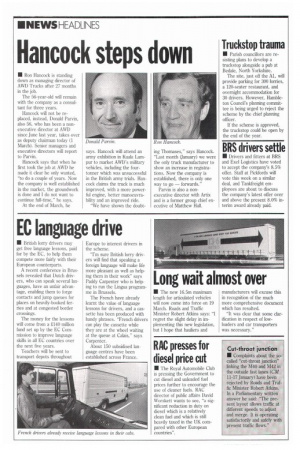 Page 8, 1st March 1990 —
EC language drive
Close
• British lorry drivers may get free language lessons, paid for by the EC, to help them compete more fairly with their European counterparts.
A recent conference in Brussels revealed that Dutch drivers, who can speak several languages, have an unfair advantage, enabling them to forge contacts and jump queues for places on heavily-booked ferries and at congested border crossings.
The money for the lessons will come from a 2140 million fund set up by the EC Commission to improve language skills in all EC countries over the next five years.
Teachers will be sent to transport depots throughout Europe to interest drivers in the scheme.
"I'm sure British lorry drivers will find that speaking a foreign language will make life more pleasant as well as helping them in their work" says Paddy Carpenter who is helping to run the Lingua programme in Brussels.
The French have already learnt the value of language lessons for drivers, and a cassette has been produced with handy phrases. "French drivers can play the cassette while they are at the wheel waiting at the queue at Calais," says Carpenter.
About 150 subsidised language centres have been established across France.