studied by Brittan
1st March 1990
Page 7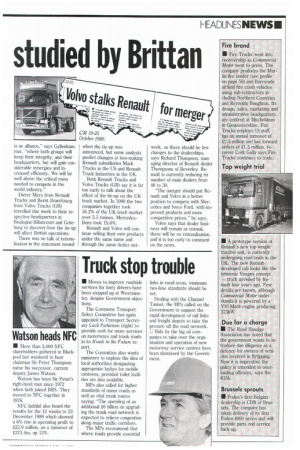 Page 7, 1st March 1990 —
studied by Brittan
Close
is an alliance," says Gyllenhammar, "where both groups will keep their integrity, and their headquarters, but will gain considerable synergies and increased efficienty. We will be well above the critical mass needed to compete in the world industry."
Dieter Merz from Renault Trucks and Bernt Brandtzaeg from Volvo Trucks (GB) travelled this week to their respective headquarters in Boulogne-Billancourt and Goteborg to discover how the tie-up will affect British operations.
There was no talk of rationalisation in the statement issued when the tie-up was announced, but some analysts predict changes at loss-making Renault subsidiaries Mack Trucks in the US and Renault Truck Industries in the UK.
Both Renault Trucks and Volvo Trucks (GB) say it is far too early to talk about the effect of the tie-up on the UK truck market. In 1989 the two companies together took 16.2% of the UK truck market over 3.5 tonnes. MercedesBenz took 15.6%.
Renault and Volvo will continue selling their own products under the same name and through the same dealer net
work, so there should be few changes to the dealerships, says Richard Thompson, managing director of Renault dealer Thompsons of Beverley. Renault is currently reducing its number of main dealers from 46 to 30.
"The merger should put Renault and Volvo in a better position to compete with Mercedes and Iveco Ford, with improved products and more competitive prices," he says.
Volvo says that dealer business will remain as normal, there will be no rationalisation, and it is too early to comment on the news.