Fire brand • Fire Trucks went into receivership as Commercial
1st March 1990
Page 7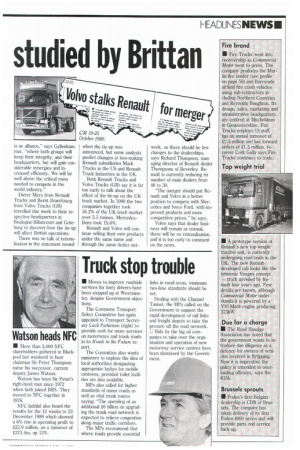 Page 7, 1st March 1990 —
Fire brand • Fire Trucks went into receivership as Commercial
Close
Motor went to press. The company produces the Marlin fire tender (see profile on page 50) and Barracuda airfield fire crash vehicles using sub-contractors including Northern Countries and Reynolds Boughton. Its design, sales, marketing and administrative headquarters are centred at Mitcheldean in Gloucestershire. Fire Trucks employs 13 staff, has an annual turnover of £2.5 million and has forward orders of £1.5 million. receiver Cork Gully says Fire Trucks continues to trade.
Top weight trial • A prototype version of Renault's new top-weight tractive unit, is currently undergoing road trials in the UK. The new Renaultdeveloped cab looks like the futuristic Virages concept — truck unveiled by Renault four years ago. Few details are known, although Commercial Motor understands it is powered by a V10 Mack engine producing 373kW.
Due for a charge • The Road Haualge Association has noted that the government wants to introduce due diligence as a defence for owners of vehicles involved in flytipping. Now it is imperative the policy is extended to overloading offences, says the RHA.
Brussels sprouts • Foden's first Belgian dealership is CDB of Brussels. The company has taken delivery of its first Foden 4000 series and will provide parts and service back-up.