CALLED TO T
1st March 1990
Page 48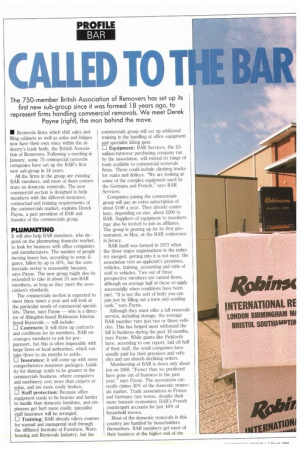 Page 49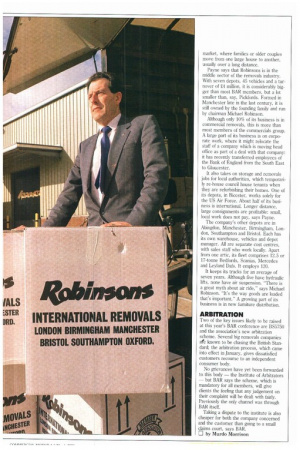 Page 48, 1st March 1990 —
CALLED TO T
Close
The 750-member British Association of Removers has set up its first new sub-group since it was formed 18 years ago, to represent firms handling commercial removals. We meet Derek Payne (right), the man behind the move.
• Removals firms which shift safes and filing cabinets as well as sofas and fridges now have their own voice within the industry's trade body, the British Association of Removers. Following a meeting in January, some 75 commercial removals companies have set up the BAR's first new sub-group in 18 years.
All the firms in the group are existing BAR members, and most of them concentrate on domestic removals. The new commercial section is designed to help members with the different insurance, contractual and training requirements of the commercials market, explains Derek Payne, a past president of BAR and founder of the commercials group.
PLUMMETING
It will also help BAR members, who depend on the plummeting domestic market, to look for business with office companies and manufacturers. The number of people moving house has, according to some figures, fallen by up to 40%, but the commercials sector is reasonably buoyant, says Payne. The new group might also be extended to take in about 25 non-BAR members, as long as they meet the association's standards.
The commercials section is expected to meet three times a year and will look at the particular needs of commercial specialists. These, says Payne — who is a director of Abingdon-based Robinsons International Removals — will include:
Contracts: It will draw up contracts and conditions for its members. BAR encourages members to ask for prepayment, but this is often impossible with large firms or local authorities, which can take three to six months to settle. 0 Insurance: It will come up with more comprehensive insurance packages. Liability for damage tends to be greater in the commercials business, where computers and machinery cost more than carpets or sofas, and are more easily broken. 0 Staff protection: Because office equipment tends to be heavier and harder to handle than domestic furniture, and employees get hurt more easily, specialist staff insurance will be arranged.
0 Training: BAR already offers courses for manual and managerial staff through the affiliated Institute of Furniture, Warehousing and Removals Industry, but the
commercials group will set up additional training in the handling of office equipment and specialist lifting gear.
0 Equipment: BAR Services, the £3million-turnover purchasing company run by the association, will extend its range of tools available to commercial removals firms. These could include climbing trucks for stairs and dolleys. "We are looking at some of the complex equipment used by the Germans and French," says BAR Services.
Companies joining the commercials group will pay an extra subscription of about 2100 a year. They already contribute, depending on size, about 2200 to BAR. Suppliers of equipment to members may also be invited to join as affiliates. The group is gearing up for its first presentation, in May, at the BAR conference in Jersey.
BAR itself was formed in 1972 when the three major organisations in the industry merged, getting into it is not easy: the association vets an applicant's premises, vehicles, training, accounting and ratio of staff to vehicles. Two out of three prospective members are turned down, although on average half of these re-apply successfully when conditions have been met. "It is not the sort of body you can join just by filling out a form and sending cash," says Payne.
Although they must offer a full removals service, including storage, the average BAR member runs just two or three vehicles. This has helped most withstand the fall in business during the past 18 months, says Payne. While giants like Pickfords have, according to one report, laid off half of their staff, the small companies have usually paid for their premises and vehicles and can absorb declining orders.
Membership of BAR is down only about ten on 1988. "Fewer than we predicted have gone out of business in the past year," says Payne. The association currently claims 30% of the domestic removals market. Trade associations in France and Germany fare worse, despite their more buoyant economies; BAR's French counterpart accounts for just 16% of household moves.
Most of the domestic removals in this country are handled by householders themselves. BAR members get most of their business at the higher end of the market, where families or older couples move from one large house to another, usually over a long distance.
Payne says that Robinsons is in the middle sector of the removals industry. With seven depots, 45 vehicles and a turnover of VI million, it is considerably bigger than most BAR members, but a lot smaller than, say, Pickfords. Formed in Manchester late in the last century, it is still owned by the founding family and run by chairman Michael Robinson.
Although only 10% of its business is in commercial removals, this is more than most members of the commercials group. A large part of its business is on corporate work, where it might relocate the staff of a company which is moving head office as part of a deal with that company: it has recently transferred employees of the Bank of England from the South East to Gloucester.
It also takes on storage and removals jobs for local authorities, which temporarily re-house council house tenants when they are refurbishing their homes. One of its depots, in Bicester, works solely for the US Air Force. About half of its business is international. Longer distance, large consignments are profitable: small, local work does not pay, says Payne.
The company's other depots are in Abingdon, Manchester, Birmingham, London, Southampton and Bristol. Each has its own warehouse, vehicles and depot manager. All are separate cost centres, with sales staff who work locally. Apart from one artic, its fleet comprises 12.5 or 17-tonne Bedfords, Scanias, Mercedes and Leyland Dafs. It employs 120.
It keeps its trucks for an average of seven years. Although five have hydraulic lifts, none have air suspension. 'There is a great myth about air ride," says Michael Robinson. "It's the way goods are loaded that's important." A growing part of its business is in new furniture distribution.
ARBITRATION
Two of the key issues likely to be raised at this year's BAR conference are BS5750 and the association's new arbitration scheme. Several big removals companies afe known to be chasing the British Standard; the arbitration process, which came into effect in January, gives dissatisfied customers recourse to an independent consumer body.
No grievances have yet been forwarded to this body — the Institute of Arbitrators — but BAR says the scheme, which is mandatory for all members, will give clients the feeling that any judgement on their complaint will be dealt with fairly. Previously the only channel was through BAR itself.
Taking a dispute to the institute is also cheaper for both the company concerned and the customer than going to a small claims court, says BAR. El by Murdo Morrison