PARLEZ~VOUS
1st March 1990
Page 46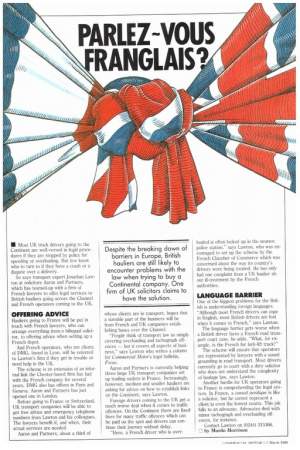 Page 46, 1st March 1990 —
PARLEZ~VOUS
Close
RANGLAIS9
• Most UK truck drivers going to the Continent are well-versed in legal procedures if they are stopped by police for speeding or overloading. But few know who to turn to if they have a crash or a dispute over a delivery.
So says transport expert Jonathan Lawton at solicitors Aaron and Partners, which has teamed-up with a firm of French lawyers to offer legal services to British hauliers going across the Channel and French operators coming to the UK.
OFFERING ADVICE
Hauliers going w France will be put in touch with French lawyers, who can arrange everything from a bilingual solicitor, to offering advice when setting up a French depot.
And French operators, who are clients of DMG, based in Lyon, will be referred to Lawton's firm if they get in trouble or need help in the UK.
The scheme is an extension of an informal link the Chester-based firm has had with the French company for several years. DMG also has offices in Paris and Geneva. Aaron and Partners has just opened one in London.
Before going to France or Switzerland, UK transport companies will be able to get free advice and emergency telephone numbers from Lawton and his colleagues. The lawyers benefit if, and when, their actual services are needed.
Aaron and Partners, about a third of whose clients are in transport, hopes that a sizeable part of the business will be from French and UK companies establishing bases over the Channel.
"People think of transport law as simply covering overloading and tachograph offences — but it covers all aspects of business," says Lawton who writes a column for Commercial Motor's legal bulletin, Focus.
Aaron and Partners is currently helping three large UK transport companies set up trading outlets in France. Increasingly, however, medium and smaller hauliers an asking for advice on how to establish links on the Continent, says Lawton.
Foreign drivers coming to the UK get a much worse deal when it comes to traffic offences. On the Continent there are fixed fines for many traffic offences which can be paid on the spot and drivers can continue their journey without delay.
"Here, a French driver who is over loaded is often locked up in the nearest police station," says Lawton, who was encouraged to set up the scheme by the French Chamber of Commerce which was concerned about the way its country's drivers were being treated. He has only had one complaint from a UK haulier about ill-treatment by the French authorities.
LANGUAGE BARRIER
One of the biggest problems for the British is understanding foreign languages. "Although most French drivers can cope in English, most British drivers are lost when it comes to French," says Lawton.
The language barrier gets worse when a British driver faces a French road transport court case, he adds. "What, for example, is the French for fork-lift truck?"
The scheme will ensure that operators are represented by lawyers with a sound grounding in road transport. Most drivers currently go to court with a duty solicitor who does not understand the complexity of haulage law, says Lawton.
Another hurdle for UK operators going to France is comprehending the legal system. In France, a ccmseil juridique is like a solicitor, but he cannot represent a client in even the lowest courts. This job falls to an advocate. Advocates deal with minor tachograph and overloading offences, for instance.
Contact Lawton on (0244) 315366. 0 by Murdo Morrison