GROWING GAINS
1st March 1990
Page 32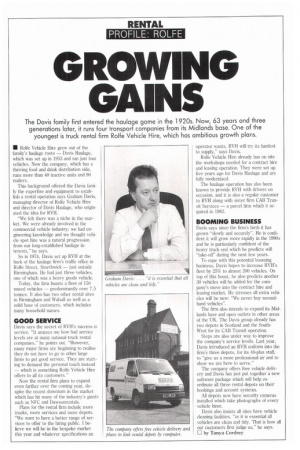 Page 32, 1st March 1990 —
GROWING GAINS
Close
The Davis family first entered the haulage game in the 1920s. Now, 63 years and three generations later, it runs four transport companies from its Midlands base. One of the youngest is truck rental firm Rolfe Vehicle Hire, which has ambitious growth plans.
• Rolfe Vehicle Hire grew out of the family's haulage roots — Davis Haulage, which was set up in 1953 and ran just four vehicles. Now the company, which has a thriving food and drink distribution side, runs more than 40 tractive units and 90 trailers.
This background offered the Davis family the expertise and equipment to establish a rental operation says Graham Davis, managing director of Rolfe Vehicle Hire and director of Davis Haulage, who originated the idea for RVH.
"We felt there was a niche in the market. We were already involved in the commercial vehicle industry; we had engineering knowledge and we thought vehicle spot hire was a natural progression from our long-established haulage interests," he says.
So in 1974, Davis set up RVH at the back of the haulage firm's traffic office in Rolfe Street, Smethwick — just outside Birmingham. He had just three vehicles, one of which was a heavy goods vehicle.
Today, the firm boasts a fleet of 150 mixed vehicles — predominantly over 7.5 tonnes. It also has two other rental sites in Birmingham and Walsall as well as a solid base of customers, which includes many household names.
GOOD SERVICE
Davis says the secret of RVH's success is service. "It amazes me how bad service levels are at many national truck rental companies," he points out. "However, many major firms are beginning to realise they do not have to go to other large firms to get good service. They are starting to demand the personal touch instead — which is something Rolfe Vehicle Hire offers to all its customers."
Now the rental firm plans to expand even further over the coming year, despite the recent downturn in the market which has hit many of the industry's giants such as NFC and Dawsonrentals.
Hans for the rental firm include more trucks, more services and more depots. "We want to have a better range of services to offer to the hiring public. I believe we will be in the bespoke market this year and whatever specifications an
operator wants, RVH will try its hardest to supply," says Davis.
Rolfe Vehicle Hire already has on site the workshops needed for a contract hire and leasing operation. They were set up five years ago for Davis Haulage and are fully modernised.
The haulage operation has also been known to provide RVH with drivers on occasion, and it is also a regular customer to RVH along with sister firm CAB Transit Services — a parcel firm which it acquired in 1982.
BOOMING BUSINESS
Davis says since the firm's birth it has grown "slowly and securely". He is confident it will grow more rapidly in the 1990s and he is particularly confident of the heavy truck end which he predicts will "take-off' during the next few years.
To cope with this potential booming business, Davis hopes to increase RVH's fleet by 25% to almost 200 vehicles. On top of this boost, he also predicts another 30 vehicles will be added for the company's move into the contract hire and leasing market. He stresses all extra vehicles will be new; "We never buy secondhand vehicles".
The firm also intends to expand its Midlands base and open outlets in other areas of the UK. The Davis group already has two depots in Scotland and the SouthWest for its CAB Transit operation.
Steps are also under way to improve the company's service levels. Last year, Davis introduced an RVH uniform into the firm's three depots, for its 40-plus staff, to "give us a more professional air and to show we are here to serve."
The company offers free vehicle delivery and Davis has just put together a new software package which will help coordinate all three rental depots on their bookings and account systems.
All depots now have security cameras installed which take photographs of every vehicle hirer.
Davis also insists all sites have vehicle cleaning facilities, "as it is essential all vehicles are clean and tidy. That is how all our customers first judge us," he says. D by Tanya Cordrey