Cross Rent-a-Tipper rents top-spec tippers ranging from 3.5 to 24-tonnes.
1st March 1990
Page 30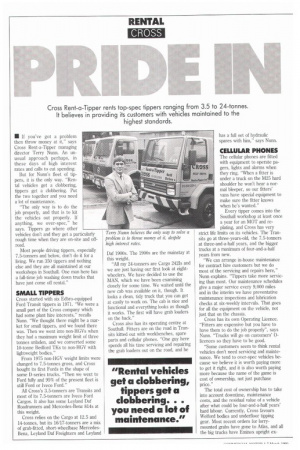 Page 31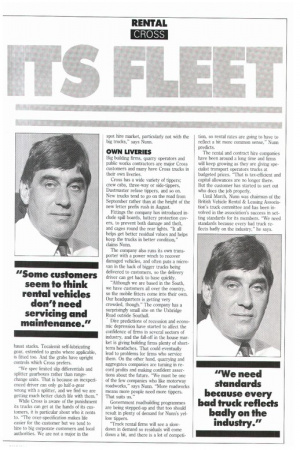 Page 30, 1st March 1990 —
Cross Rent-a-Tipper rents top-spec tippers ranging from 3.5 to 24-tonnes.
Close
It believes in providing its customers with vehicles maintained to the highest standards.
• If you've got a problem then throw money at it," says Cross Rent-a-Tipper managing director Terry Nunn, An unusual approach perhaps, in these days of high interest rates and calls to cut spending.
But for Nunn's fleet of tippers, it is the only way. "Rental vehicles get a clobbering, tippers get a clobbering. Put the two together and you need a lot of maintenance.
"The only way is to do the job properly, and that is to kit the vehicles out properly. If anything, we over-spec," he says. Tippers go where other vehicles don't and they get a particularly rough time when they are on-site and offroad.
Most people driving tippers, especially 7.5-tonners and below, don't do it for a living. We run 350 tippers and nothing else and they are all maintained at our workshops in Southall, One man here has a full-time job washing down trucks that have just come off rental."
SMALL TIPPERS
Cross started with six Edbro-equipped Ford Transit tippers in 1971. "We were a small part of the Cross company which had some plant hire interests," recalls Nunn. "We thought there might be a market for small tippers, and we found there was. Then we went into non-HGVs when they had a maximum weight limit of three tonnes unladen, and we converted some 10-tonne Bedford TKs to non-HGV with lightweight bodies."
From 1975 non-HGV weight limits were changed to 7.5-tonnes gross, and Cross bought its first Fords in the shape of some D-series trucks. "Then we went to Ford fully and 95% of the present fleet is still Ford or lveco Ford."
All Cross's 3.5-tonners are Transits and most of its 7.5-tonners are Iveco Ford Cargos. It also has some Leyland Daf Roadrunners and Mercedes-Benz 814s at this weight.
Cross relies on the Cargo at 12.5 and 14-tonnes, but its 16/17-tonners are a mix of grab-fitted, short-wheelbase MercedesBenz, Leyland Daf Freighters and Leyland Daf 1900s. 'The 1900s are the mainstay at this weight.
"All my 24-tonners are Cargo 2421s and we are just having our first look at eightwheelers. We have decided to use the MAN, which we have been examining closely for some time. We waited until the new cab was available on it, though. It looks a clean, tidy truck that you can get at easily to work on. The cab is nice and functional and everything looks as though it works. The first will have grab loaders on the back."
Cross also has its operating centre at Southall. Fitters are on the road in Transits kitted out with workbenches, spare parts and cellular phones. "One guy here spends all his time servicing and repairing the grab loaders out on the road, and he has a full set of hydraulic spares with him," says Nunn.
CELLULAR PHONES
The cellular phones are fitted with equipment to operate pagers, lights and alarms when they ring. "When a fitter is under a truck on the M25 hard shoulder he won't hear a normal bleeper, so our fitters' vans have special equipment to make sure the fitter knows when he's wanted."
Every tipper comes into the Southall workshop at least once a year for an MOT and replating, and Cross has very strict life limits on its vehicles. The Transits go at three-years-old, the 7.5-tonners at three-and-a-half years, and the bigger trucks at a maximum of four-and-a-half years from new.
"We can arrange in-house maintenance for contract hire customers but we do most of the servicing and repairs here," Nunn explains. "Tippers take more servicing than most. Our maintenance schedules give a major service every 9,000 miles and in the interim we have preventative maintenance inspections and lubrication checks at six-weekly intervals. That goes for all the equipment on the vehicle, not just that on the chassis.
Cross has its own Operating Licence. "Fitters are expensive but you have to have them to do the job properly", says Nunn. "Trucks will go on customers' 0licences so they have to be good.
"Some customers seem to think rental vehicles don't need servicing and maintenance. We tend to over-spec vehicles because we believe it is worth paying more to get it right, and it is also worth paying more because the name of the game is cost of ownership, not just purchase price."
The total cost of ownership has to take into account downtime, maintenance costs, and the residual value of a vehicle after what could be four-and-a-half years' hard labour. Currently, Cross favours Welford bodies and underfloor tipping gear. Most recent orders for lorrymounted grabs have gone to Atlas, and all the big trucks have Eminox upright ex haust stacks. Tecalemit self-lubricating gear, extended to grabs where applicable, is fitted too. And the grabs have upright controls which Cross prefers.
"We spec limited slip differentials and splitter gearboxes rather than rangechange units. That is because an inexperienced driver can only go half-a-gear wrong with a splitter, and we find we are getting much better clutch life with them."
While Cross is aware of the punishment its trucks can get at the hands of its customers, it is particular about who it rents to. "The over-specification makes life easier for the customer but we tend to hire to big corporate customers and local authorities. We are not a major in the spot hire market, particularly not with the big trucks," says Nunn.
OWN LIVERIES
Big building firms, quarry operators and public works contractors are major Cross customers and many have Cross trucks in their own liveries.
Cross has a wide variety of tippers; crew cabs, three-way or side-tippers, Dustmaster refuse tippers, and so on. New trucks tend to go on the road from September rather than at the height of the new letter prefix rush in August.
Fittings the company has introduced include spill 1)oards, battery protection covers, to prevent both damage and theft, and cages round the rear lights, "It all helps get better residual values and helps keep the trucks in better condition," claims Nunn.
The company also runs its own transporter with a power winch to recover damaged vehicles, and often puts a microvan in the back of bigger trucks being delivered to customers, so the delivery driver can get back to base quickly.
"Although we are based in the South, we have customers all over the country, so the mobile fitters come into their own. Our headquarters is getting very crowded, though." The company has a surprisingly small site on the Uxbridge Road outside Southall.
Dire predictions of recession and economic depression have started to affect the confidence of firms in several sectors of industry, and the fall-off in the house market is giving building firms plenty of shortterm headaches. That could eventually lead to problems for firms who service them. On the other hand, quarrying and aggregates companies are turning in record profits and making confident assertions about the future. "We must be one of the few companies who like motorway roadworks," says Nunn. "More roadworks means more people need more tippers. That suits us."
Government roadbuilding programmes are being stepped-up and that too should result in plenty of demand for Nunn's yellow tippers.
"Truck rental firms will see a slowdown in demand so residuals will come down a bit, and there is a lot of competi tion, so rental rates are going to have to reflect a bit more common sense," Nunn predicts.
The rental and contract hire companies have been around a long time and firms will keep growing as they are giving specialist transport operators trucks at budgeted prices. "That is tax-efficient and capital allowances are no longer there. But the customer has started to sort out who does the job properly.
Until March, Nunn was chairman of the British Vehicle Rental & Leasing Association's truck committee and has been involved in the association's success in setting standards for its members. "We need standards because every bad truck reflects badly on the industry," he says.