VW goes for Green appeal
1st March 1990
Page 24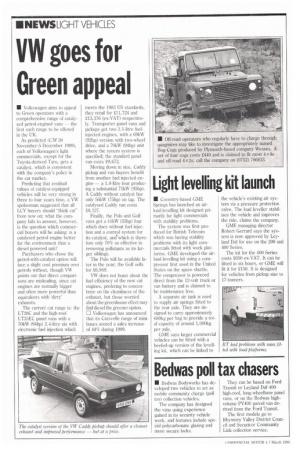 Page 24, 1st March 1990 —
VW goes for Green appeal
Close
• Volkswagen aims to appeal to Green operators with a comprehensive range of catalysed petrol-engined vans — the first such range to be offered in the UK.
As predicted (CM 30 November-5 December 1989), each of Volkswagen's light commercials, except for the Toyota-derived Taro, gets a catalyst, which is consistent with the company's policy in the car market.
Predicting that residual values of catalyst-equipped vehicles will be very strong in three to four years time, a VW spokesman suggested that all LCV buyers should "think cat" from now on: what the company fails to answer, however, is the question which commercial buyers will be asking: is a catalysed petrol engine better for the environment than a diesel powered unit?
Purchasers who chose the petrol-with-catalyst option will face a slight cost premium over petrols without, though VW points out that direct comparisons are misleading, since cat engines are normally bigger and often more powerful than equivalents with 'dirty' exhausts.
The current cat range is: the LT28C and the high-roof LT35EC panel vans with a 70kW (94hp) 2.4-litre six with electronic fuel injection which meets the 1983 US standards, they retail for ,£11,724 and i'.13,376 (ex-VAT) respectively. Transporter panel vans and pickups get two 2.1-litre fuelinjected engines, with a 69kW (92hp) version with two-wheel drive, and a 70kW (94hp) unit where the syncro system is specified; the standard panel van costs £9,673.
Moving down in size, Caddy pickup and van buyers benefit from another fuel injected engine — a 1.8-litre four producing a substantial 71kW (95hp). A Caddy without catalyst has only 56kW (75hp) on tap. The catalysed Caddy van costs £8,127.
Finally, the Polo and Golf vans get a 41kW (55hp) four which does without fuel injection and a control system for its catalyst, and which is therefore only 70% as effective in removing pollutants as its larger siblings.
The Polo will be available later in the year; the Golf sells for £6,949.
VW does not boast about the fuel efficiency of the new cat engines, prefering to concentrate on the cleanliness of the exhaust, but those worried about the greenhouse effect may find diesel the greener option. El Volkswagen has announced that its Caravelle range of minibuses scored a sales increase of 44% during 1989.