Managers view the Nineties
1st March 1990
Page 125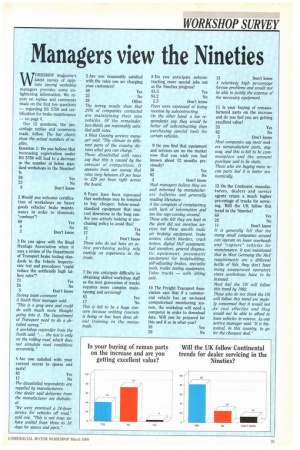 Page 125, 1st March 1990 —
Managers view the Nineties
Close
WORKSHOP magazine's latest survey of °pillions among workshop managers provides some enlightening information. We report on replies and comments made on the first two questions — regarding BS 5750 and certification for brake maintenance — on page 4.
Our 12 questions, the percentage replies and comments made, follow. The bar charts show the actual numbers of replies.
Question 1: Do you believe that increasing registration under BS 5750 will lead to a decrease in the number of below standard workshops in the Nineties?
59 Yes 33 No 8 Don't know 2 Would you welcome certification of workshops on heavy goods vehicles' brake maintenance in order to eliminate "cowboys"?
89 Yes No 3 Don't know
3 Do you agree with the Road Haulage Association when it says a review of the Department of Transport brake testing standards in the Vehicle Inspectorate test and procedures "could reduce the artificially high failure rates"?
71 Yes 24 No 5 Don't know
Survey team comment A South West manager said: "This is a grey area and could do with much more thought going into it. The Department of Transport need to do a detailed survey."
A workshop controller from the North said: ". . the test is only on the rolling road, which does not simulate road conditions accurately."
4 Are you satisfied with your current access to spares and parts?
83 Yes 17 No
The dissatisfied respondents are supplied by manufacturers.
One dealer said deliveries from the manufacturer are diabolical.
"We were promised a 24-hour service for vehicles off road," said one. "This is not true; we have waited from three to 10 days for spares and parts."
5 Are you reasonably satisfied with the rates you are charging your customers?
49 Yes 25 No 26 Other
The survey results show that 26% of companies contacted are maintaining their own vehicles. Of the remainder, two-thirds are reasonably satisfied with rates.
A West Country services manager said: "The climate in different parts of the country dictates what you can charge.' Those dissatisfied with rates say that this is caused by the amount of competition. It appears from our survey that rates vary between £9 per hour to £29 per hour right across the board.
6 Fears have been expressed that workshops may be tempted to buy cheaper, below-usualstandard equipment that may cost downtime in the long run. Are you actively looking at purchasing policy to avoid this?
82 Yes 17 No 1 Don't know
Those who do not have an active purchasing policy rely mainly on experience in the trade.
7 Do you anticipate difficulty in obtaining skilled workshop staff as the next generation of trucks requires more complex maintaining and servicing?
83 Yes 17 No
This is felt to be a huge concern because nothing concrete is being or has been done about training in the motor trade.
8 Do you anticipate subcontracting more special jobs out as the Nineties progress?
43.3 Yes 54.2 No 2.5 Don't know
Fears were expressed of losing revenue by subcontracting.
On the other hand, a few respondents say they would be better off subcontracting than purchasing special tools for certain vehicles.
9 Do you find that equipment and services are on the market now that you wish you had known about 12 months previously?
36 Yes 62 No 2 Don't know
Most managers believe they are well informed by manufacturers' bulletins and generally reading literature.
A few complain of complacency with lack of information and too few reps coming around. Those who felt they are kept in the dark did not mention services but these specific tools: air braking equipment, brake testers, clutch bleeders, crack testers, digital MoT equipment, fuel monitors, general diagnostic equipment, pneumatic equipment for bodybuilding, self-adjusting brakes, specialist tools, trailer testing equipment, Volvo trucks — with lifting axle.
10 The Freight Transport Association says that if a commercial vehicle has an on-board computerised monitoring system, the workshop will need a computer in order to download data. Will you be prepared for this and if so in what year?
38 Yes 50 No 12 Don't know
A relatively high percentage foresee problems and would not be able to justify the expense of the necessary equipment.
11 Is your buying of remanufactured parts on the increase and do you feel you are getting excellent value?
35 Yes 62 No 3 Don't know
Most companies say most makers remanufacture parts, anyway, and this is felt to be commonplace and the amount purchase said to be static.
Those who are buying more recon parts feel it is better economically.
12 On the Continent, manufacturers, dealers and service agents retain a much higher percentage of trucks for servicing. Will the UK follow this trend in the Nineties?
68 Yes 25 No 11 Don't know
It is generally felt that too many small companies around can operate on lower overheads and 'capture" vehicles for maintenance. It was mentioned that in West Germany the MoT requirements are a different kettle of fish; they don't have many unapproved operators since workshops have to be licensed.
Most feel the UK will follow this trend by 1992.
Those who do not think the UK will follow this trend are mainly concerned that it would not .be cost effective and they would not be able to afford to have vehicles in reserve. As one service manager said: "It is historical, in this country, to go for the cheapest deal."