SERVICING BENEFITS ARE BROUGHT HOME
1st March 1990
Page 112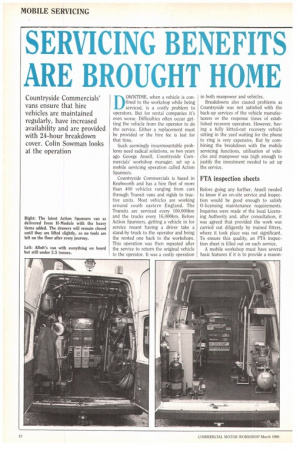 Page 113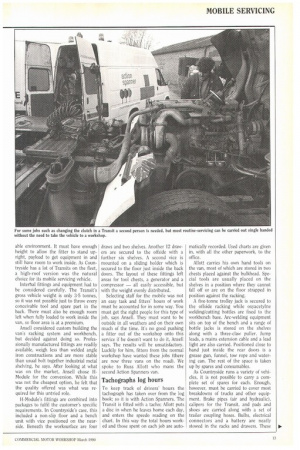 Page 114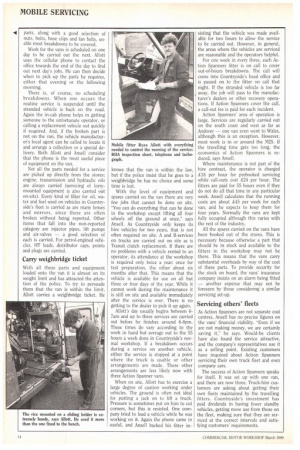 Page 112, 1st March 1990 —
SERVICING BENEFITS ARE BROUGHT HOME
Close
DOWNTIME, when a vehicle is confined to the workshop while being serviced, is a costly problem to operators. But for rental companies its even worse. Difficulties often occur getting the vehicle from the operator to do the service. Either a replacement must be provided or the hire fee is lost for that time.
Such seemingly insurmountable problems need radical solutions, so two years ago George Ansel], Countryside Commercials' workshop manager, set up a mobile servicing operation called Action Spanners.
Countryside Commercials is based in Knebworth and has a hire fleet of more than 400 vehicles ranging from cars through Transit vans and rigids to tractive units. Most vehicles are working around south eastern England. The Transits are serviced every 100,000km and the trucks every 16,000km. Before Action Spanners, getting a vehicle in for service meant having a driver take a stand-by truck to the operator and bring the rented one back to the workshops. This operation was then repeated after the service to return the original vehicle to the operator. It was a costly operation in both manpower and vehicles.
Breakdowns also caused problems as Countryside was not satisfied with the back-up services of the vehicle manufacturers or the response times of established recovery operators. However, having a fully kitted-out recovery vehicle sitting in the yard waiting for the phone to ring is very expensive. But by combining the breakdown with the mobile servicing functions, utilisation of vehicles and manpower was high enough to justify the investment needed to set up the service.
FTA inspection sheets
Before going any further, Ansell needed to know if an on-site service and inspection would be good enough to satisfy 0-licensing maintenance requirements. Inquiries were made of the local Licensing Authority and, after consultation, it was agreed that provided the work was carried out diligently by trained fitters, Where it took place was not significant. To ensure this quality, an FTA inspection sheet is filled out on each service.
A mobile workshop must have several basic features if it is to provide a reason able environment. It must have enough height to allow the fitter to stand upright, payload to get equipment in and still have room to work inside. As Countryside has a lot of Transits on the fleet, a high-roof version was the natural choice for its mobile servicing vehicle.
Interhal fittings and equipment had to be considered carefully. The Transit's gross vehicle weight is only 3.5 tonnes, so it was not possible just to throw every conceivable tool and spare part in the back. There must also be enough room left when fully loaded to work inside the van. so floor area is at a premium.
Ansel] considered custom building the van's racking system and workbench, but decided against doing so. Professionally manufactured fittings are readily available, weigh less than welded angle iron constructions and are more stable than usual bolt together industrial metal shelving, he says. After looking at what was on the market, Anse11 chose HModule for the conversion. While this was not the cheapest option, he felt that the quality offered was what was required for this untried role.
H-Module's fittings are combined into packages to fulfil the customer's specific requirements. In Countryside's case, this included a non-slip floor and a bench unit with vice positioned on the nearside. Beneath the worksurface are four
draws and two shelves. Another 12 drawers are secured to the offside with a further six shelves. A second vice is mounted on a sliding holder which is secured to the floor just inside the back doors. The layout of these fittings left areas for tool chests, a generator and a compressor — all easily accessible, but with the weight evenly distributed.
Selecting staff for the mobile was not an easy task and fitters' hours of work must be accounted for in some way. You must get the right people for this type of job, says Anse11. They must want to be outside in all weathers and on their own much of the time. It's no good pushing a fitter out of the workshop onto this service if he doesn't want to do it, AnseII says. The results will be unsatisfactory. Luckily for him, fitters from the normal workshop have wanted these jobs (there are now three vans on the road). We spoke to Russ Allott who mans the second Action Spanners van.
Tachographs log hours
To keep track of drivers' hours the tachograph has taken over from the log book; so it is with Action Spanners. The Transit is fitted with a tacho; Allott puts a disc in when he leaves home each day, and enters the speedo reading on the chart. In this way the total hours worked and those spent on each job are auto matically recorded. Used charts are given in, with all the other paperwork, to the office.
Allott carries his own hand tools on the van, most of which are stored in two chests placed against the bulkhead. Special tools are usually placed on the shelves in a position where they cannot fall off or are on the floor strapped in position against the racking.
A five-tonne trolley jack is secured to the offside racking while oxyacetylne welding/cutting bottles are fixed to the workbench base. Arc-welding equipment sits on top of the bench and a range of bottle jacks is stored on the shelves along with a three-claw puller. Jump leads, a mains extension cable and a lead light are also carried. Positioned close to hand just inside the rear doors is a grease gun, funnel, tow rope and watering can. The rest of the space is taken up by spares and consumables.
As Countryside runs a variety of vehicles, it is not possible to carry a complete set of spares for each. Enough, however, must be carried to cover most breakdowns of trucks and other equipment. Brake pipes (air and hydraulic), calipers for the Transit, and pads and shoes are carried along with a set of trailer coupling hoses. Bulbs, electrical connectors and a battery are neatly stowed in the racks and drawers. These
parts, along with a good selection of nuts, bolts, hose clips and fan belts, enable most breakdowns to be covered.
Work for the vans is scheduled on one day to be carried out the next. Allott uses the cellular phone to contact the office towards the end of the day to find out next day's jobs. He can then decide when to pick up the parts he requires, either that evening or the following morning.
There is, of course, no scheduling breakdowns. When one occurs the routine service is suspended until the stranded vehicle is back on the road. Again the in-cab phone helps in getting someone to the unfortunate operator, or calling a replacement vehicle out quickly if required. And, if the broken part is not on the van, the vehicle manufacturer's local agent can be called to locate it and arrange a collection or a special delivery. Both Mott and Anse11 consider that the phone is the most useful piece of equipment on the van.
Not all the parts needed for a service are picked up directly from the stores; engine, transmission and hydraulic oils are always carried (servicing of lorrymounted equipment is also carried out on-site). Every kind of filter for oil, water and fuel used on vehicles in Countryside's fleet is carried as are many lenses and mirrors, since these are often broken without being reported. Other items that fall into the non-reported category are injector pipes, lift pumps and air-valves — a good selection of each is carried. For petrol-engined vehicles, HT leads, distributor caps, points and plugs are carried.
Carry weighbridge ticket
With all these parts and equipment loaded onto the van it is almost on its weight limit and has attracted the attention of the police. To try to persuade them that the van is within the limit, Allott carries a weighbridge ticket. He knows that the van is within the law, but if the police insist that he goes to a weighbridge he has no choice and some time is lost.
With the level of equipment and spares carried on the van there are very few jobs that cannot he done on site. "You can do everything that can be done in the workshop except lifting all four wheels off the ground at once," says Anse11. As Countryside only keeps its hire vehicles for two years, that is not often required on site. A and B-services on trucks are carried out on site as is Transit clutch replacement. If there are no problems with a vehicle rented to an operator, its attendance at the workshop is required only twice a year: once for test preparation, the other about six months after that. This means that the vehicle is available for use on all but three or four days of the year. While it cannot work during the maintenance it is still on site and available immediately after the service is over. There is no getting to the dealer to pick it up again.
Allott's day usually begins between 67arn and up to three services are carried out before he finishes around 6-8pm. These times do vary according to the work in hand but average out to the 55 hours a week done in Countryside's normal workshop. 11 a breakdown occurs during a service on another vehicle, either the service is stopped at a point where the truck is usable or other arrangements are made. These other arrangements are less likely now with three Action Spanner vans.
When on site, Allott has to exercise a large degree of caution working under vehicles. The ground is often not ideal for putting a jack on to lift a truck. Pressure is sometimes put on him to cut corners, but this is resisted. One company tried to load a vehicle while he was working on it. Again the phone came in useful, and Ansell backed his fitter in sisting that the vehicle was made available for two hours to allow the service to be carried out. However, in general, the areas where the vehicles are serviced are reasonable and the operators helpful.
For one week in every three, each Action Spanners fitter is on call to cover out-of-hours breakdowns. The call will come into Countryside's head office and is passed on to the fitter on call that night. If the stranded vehicle is too far away, the job will pass to the manufacturer's dealers or other recovery operations. If Action Spanners cover the call, a call-out fee is paid for each incident.
Action Spanners' area of operation is large. Services are regularly carried out on the south coast and west as far as Andover — one van even went to Wales, although this is an exception. However, most work is in or around the )125. If the travelling time gets too Long, the economics of Action Spanners is reduced, says Ansel].
Where maintenance is not part of the hire contract, the operator is charged £18 per hour for prebooked servicing while call-outs cost £24 per hour. The fitters are paid for 55 hours even if they do not do all that time in any particular week. Ansell calculates that the running costs are about .£45 per week for each van, and he expects to keep them for four years. Normally the vans are kept fully occupied although this varies with the rest of the industry.
All the spares carried on the vans have been booked out of the stores. This is necessary because otherwise a part that should be in stock and available to the fitters in the workshop may not be there. This means that the vans carry substantial overheads by way of the cost of these parts. To provide security for the stock on board, the vans' insurance company insists on an alarm being fitted — another expense that may not be foreseen by those considering a similar servicing set-up.
Servicing others' fleets
As Action Spanners are not separate cost centres, Ansell has no precise figures on the vans' financial viability. "Even if we are not making money, we are certainly saving it," he says. Would-be clients have also found the service attractive, and the company's representatives use it as a selling point. Existing customers have inquired about Action Spanners servicing their own truck fleet and even company cars.
The success of Action Spanners speaks for itself. It was set up with one van, and there are now three. Truck-hire customers are asking about getting their own fleets maintained by the travelling fitters. Countryside's investment has paid dividends in having fewer standby vehicles, getting more use from those on the fleet, making sure that they are serviced at the correct intervals and satisfying customers' requirements.