• The R-M division of BASF Coating & Inks reached
1st March 1990
Page 108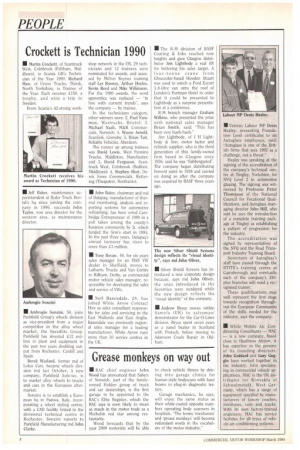 Page 108, 1st March 1990 —
• The R-M division of BASF Coating & Inks reached
Close
new heights and gave Glasgow distributor Jim Lighthody a real lift for bettering his sales target. A four-tonne crane from Gloucester-based Hewden Stuart was used to winch a Ford Escort 1.8-litre van onto the roof of London's Portman Hotel in order that it could be presented to Lightbody as a surprise presentation at a conference.
R-M branch manager Graham Wilkins, who presented the prize with national sales manager Brian Smith, said: "This has been very hush-hush."
Jim Lightbody, of J H Lightbody ea. Son, motor factor and refinish supplier, who is the third generation of this family-owned firm based in Glasgow since 1936. said he was -flabbergasted-. The company began distributing Inmont paint in 1938 and carried on doing so after the company was acquired by BASF three years ago.
• Silver Shield Screens has introduced a new corporate design because, says md John Oliver, the ones introduced in the Seventies were outdated while the new design reflects the "visual identity" of the company.
▪ Andrew Bryce moves within Samefa (UK) to salesman/ demonstrator for the Car-O-Liner division. Bryce spent seven years as a panel beater in Scotland with Protech, before moving to Adamson Crash Repair in Oldham.