• Jeff Baker, maintenance superintendent at Ryder Truck Rental's hq
1st March 1990
Page 108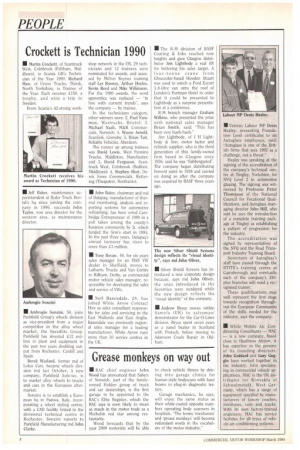 Page 108, 1st March 1990 —
• Jeff Baker, maintenance superintendent at Ryder Truck Rental's hq
Close
since joining the company in 1986, succeeds John Taylor, now area director for the western area, as maintenance director.
• Amhrogio Sonzini, 50, joins Parkfield Croup's wheels division as vice-president from a major competitor in the alloy wheel market. the Speedlite Group. Parkfield has invested £12 million in plant and equipment in the past two years doubling output from Rochester. Cardiff and Spain.
Derek Wasland, former md of Lotus Cars, became wheels division md last October. A new company, Parkfieid Auto-tee, is to market alloy wheels to trucks and cars in the European aftermarket.
Sonzini is to establish a European hq in Padova. Italy, incorporating a wheel styling centre, with a CAD facility linked to the divisional technical centre in Rochester. Sonzini reports to Parkfield Manufacturing md John Clarke, • John Bates, chairman and md of Datapaq, manufacturer of thermal monitoring, analysis and reporting systems for automotive refinishing, has been voted Cambridge Entrepreneur of 1989 in a poll taken among the county's business community by 3i, which funded the firm's start in 1984. In the past three years, Datapaq's annual turnover has risen to more than £3 million.
• Tony Bevan, 40, for six years sales manager for an MAN VW dealer in Sheffield, moves to Latham s Trucks and Van Centre in Kilburn, Derby, as commercial motor vehicle sales manager, responsible for developing the sales and service of VWs.
• Neil Baxendale, 28, has joined White Arrow Contract !lire as sales consultant responsible for sales and servicing in the East Midlands and East Anglia. Baxendale was previously regional sales manager for a leading manufacturer. White Arrow runs more than 30 service centres in the UK.