V TIME, SEVEN DAYS A WEEK
1st March 1963
Page 57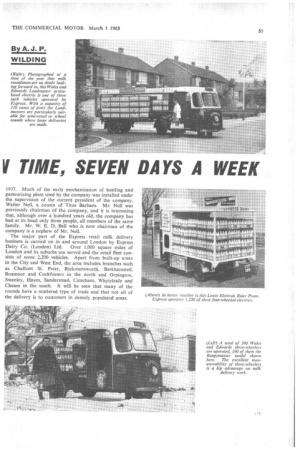 Page 56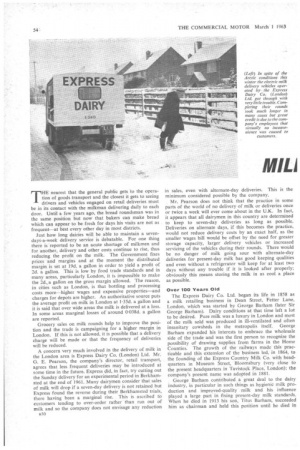 Page 58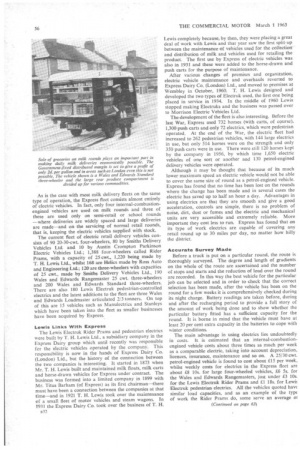 Page 65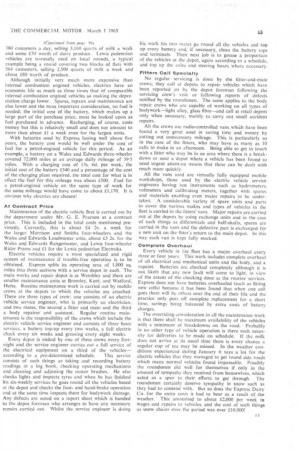 Page 57, 1st March 1963 —
V TIME, SEVEN DAYS A WEEK
Close
Keywords :
Transport
,
Battery Electric Vehicles
,
Land Transport
,
Milk
,
Road Transport
,
Trucks
,
Electric Vehicles
,
Electric Cars
,
Milk Float
,
Milkman
,
Nissan Leaf
,
Delivery
By A. J. P. WILDING
THE nearest that the general public gets to the operation of goods transport and the closest it gets to seeing drivers and vehicles engaged on retail deliveries must be in its contact with the milkman delivering daily to each door. Until a few years ago, the bread roundsman was in the same position but now that bakers can make bread which can appear to be fresh for days his visits are not as frequent—at best every other day in most districts.
Just how long dairies will be able to maintain a sevendays-a-week delivery service is debatable. For one thing there is reported to be an acute shortage of milkmen and for another, delivery and other costs continue to rise, thus reducing the profit on the milk. The Government fixes prices and margins and at the moment the distributed margin is set at 19d. a gallon in order to yield a profit of 2d. a gallon. This is low by food trade standards and in many areas, particularly London, it is impossible to make the 2d., a gallon on the gross margin allowed. The reason, in cities such as London, is that bottling and processing costs more—higher wages and expensive properties—and charges for depots are higher. An authoritative source puts the average profit on milk in London at 1.35d. a gallon and it is said that over wide areas the milk is delivered at a loss. In some areas marginal losses of around 0.038d. a gallon are reported.
Grocery sales on milk rounds help to improve the position and the trade is campaigning for a higher margin in London. If this is not allowed, it is possible that a delivery charge will be made or that the frequency of deliveries will be reduced.
A concern very much involved in the delivery of milk in the London area is Express Dairy Co. (London) Ltd. Mr. G. E. Pearson, the company's director, retail transport, agrees that less frequent deliveries may be introduced at some time in the future. Express did, in fact, try cutting out the Sunday delivery for an experimental period in Berkhamsted at the end of 1961. Many dairymen consider that sales of milk will drop if a seven-day delivery is not retained but Express found the reverse during their Berkhamsted trials, there having been a marginal rise. This is ascribed to customers tending to over-order rather than run out of milk and so the company does not envisage any reduction ri30 in sales, even with alternate-day deliveries. This is the minimum considered possible by the company, Mr. Pearson does not think that the practice in some parts of the world of no delivery of milk or deliveries once or twice a week will ever come about in the U.K. In fact, it appears that all dairymen in this country are determined to keep to seven-day deliveries as long as possible. Deliveries on alternate days, if this becomes the practice, would not reduce delivery costs by an exact half, as the smaller wages bill would be offset by the need for greater storage capacity, larger delivery vehicles or increased servicing of the vehicles during their rounds. There would be no danger of milk going sour with alternate-day deliveries for present-day milk has good keeping qualities and even without a refrigerator will keep for at least two days without any trouble if it is looked after properly; obviously this means storing the milk in as cool a place as possible.
Over 100 Years Old
The Express Dairy Co. Ltd. began its life in 1858 as a milk retailing business in Dean Street, Fetter Lane, London, which was started by George Barham (later Sir George Barham). Dairy conditions at that time left a lot to be desired. Pure milk was a luxury in London and most of the milk sold was produced in ill-ventilated and often insanitary cowsheds in the metropolis itself. George Barham expanded his interests to embrace the wholesale side of the trade and was the first person to recognize the possibility of drawing supplies from farms in the Home Counties. The growth of the railways made this practicable and this extension of the business led, in 1864, to the founding of the Express Country Milk Co. with headquarters in Museum Street, Bloomsbury (very close to the present headquarters in Tavistock Place, London): the company's present name was adopted in 1881.
George Barham contributed a great deal to the dairy industry, in particular in such things as hygienic milk production and improved-quality milk and his influence played a large part in fixing present-day milk standards. When he died in 1913 his son, Titus Barham, succeeded him as chairman and held this position until he died in 1937. Much of the early mechanization of bottling and pasteurizing plant used by the company was installed under the supervision of the current president of the company, Walter Nell, a cousin of Titus Barham. Mr. Nell was previously chairman of the company, and it is interesting that, although over a hundred years old, the company has had at its head only three people, all members of the same family. Mr. W. E. D. Bell who is now chairman of the company is a nephew of Mr. NeIl.
The major part of the Express retail milk delivery business is carried on in and around London by Express Dairy Co. (London) Ltd. Over 1,000 square miles of London and its suburbs are served and the retail fleet consists of some 2,200 vehicles. Apart from built-up areas in the City and West End, the area includes branches such as Chalfont St. Peter, Rickmansworth, Berkhamsted, Boxrnoor and Cockfosters in the north and Orpington, Swanley, Hayes, Sanderstead, Caterham, Whyteleafe and Cheam in the south. It will be seen that many of the rounds have a scattered type of trade and that not all of the delivery is to customers in densely populated areas. As is the case with most milk delivery fleets on the same type of operation, the Express fleet consists almost entirely of electric vehicles. In fact, only four internal-combustionengined vehicles are used on milk rounds and three of these are used only on semi-retail or school rounds —where deliveries are widely spaced and large deliveries are made—and on the servicing of normal retail rounds, that is, keeping the electric vehicles supplied with stock.
The current fleet of electric retail delivery vehicles consists of 90 20-30-cwt. four-wheelers, 80 by Smiths Delivery Vehicles Ltd. and 10 by Austin Crompton Parkinson Electric Vehicles Ltd.; 1,388 four-wheelers called Rider Prams, with a capacity of 25 cwt., 1,220 being made by T. H. Lewis Ltd., whilst 168 are Helics made by Ross Auto and Engineering Ltd.; 120 are three-wheelers with capacities of 25 cwt., made by Smiths Delivery Vehicles Ltd., 190 Wales and Edwards Rangemaster 25 cwt. three-wheelers and 200 Wales and Edwards Standard three-wheelers. There are also 180 Lewis Electruk pedestrian-controlled electrics and the latest additions to the fleet are three Wales and Edwards Loadmaster articulated 2/3 tanners. On top of this are 15 vehicles such as Manulectrics and Stanleys which have been taken into the fleet as smaller businesses have been acquired by Express.,
Lewis Links With Express
The Lewis Electruk Rider Prams and pedestrian electrics were built by T. H. Lewis Ltd., a subsidiary company in the Express Dairy group which until recently was responsible for the electric vehicles operated by the company. This responsibility is now in the hands of Express Dairy Co. (London) Ltd., but the history of the connection between the two companies is interesting. It started in 1873 when Mr. T. H. Lewis built and maintained milk floats, milk carts and horse-drawn vehicles for Express under contract. The business was formed into a limited company in 1899 with Mr. Titus Barham (of Express) as its first chairman—there must have been a connection between the companies at that time—and in 1921 T. H. Lewis took over the maintenance of a small fleet of motor vehicles and steam wagons. In /931 the Express Dairy Co. took over the business of T. H. Lewis completely because, by then, they were placing a great deal of work with Lewis and that year saw the first split-up between the maintenance of vehicles used for the collection and distribution of milk and vehicles used for retailing the product. The first use by Express of electric vehicles was also in 1931 and these were added to the horse-drawn and push carts for the purpose of maintenance.
After various changes of premises and organization, electric vehicle maintenance and overhauls reverted to Express Dairy Co. (London) Ltd., and moved to premises at Wembley in October, 1960. T. H. Lewis designed and developed the two types of Electruk used, the first one being placed in service in 1934. In the middle of 1960 Lewis stopped making Electruks and the business was passed over to Morrison Electric Vehicles Ltd.
The development of the fleet is also interesting. Before the last War, Express used 732 horses (with carts, of course), 1,300 push carts and only 72 electrics, which were pedestrian operated. At the end of the War, the electric fleet had increased to 262 pedestrian vehicles, with 144 large electrics in use, but only 514 horses were on the strength and only 350 push carts were in use. There were still 120 horses kept by the company in 1956, by which time 1,650 electric vehicles of one sort or another and 130 petrol-engined delivery vehicles were operated.
Although it may be thought that because of its much lower maximum speed an electric vehicle would not be able to cover the same size of round as a petrol-engined vehicle. Express has found that no time has been lost on the rounds where the change has been made and in several cases the electric has saved up to half an hour a day. Advantages in using electrics are that they are smooth and give a good acceleration, controls are simple, there is no problem of noise, dirt, dust or fumes and the electric and mechanical units are very accessible and extremely reliable. More important they cost less to run. Express has found that on its type of work electrics are capable of covering any retail round up to 30 miles per day, no matter how hilly the district.
Accurate Survey Made
Before a truck is put on a particular round, the route is thoroughly surveyed. The degree and length of gradients on the whole of the route are ascertained and the number of stops and starts and the reduction of load over the round are recorded. In this way the best vehicle for the particular job can be selected and in order to check that the correct selection has been made, after the vehicle has been on the round for a few weeks it is comprehensively checked during its night charge. Battery readings are taken before, during and after the recharging period to provide a full story of the amount of work being done and to show whether the particular battery fitted has a sufficient capacity for the round. It is borne in mind that the vehicle must have at least 20 per cent extra capacity in the batteries to cope with winter conditions.
The main advantage in using electrics lies undoubtedly in costs. It is estimated that an internal-combustionengined vehicle costs about three times as much per week as a comparable electric, taking into account depreciation, licences, insurance, maintenance and so on. A 25/30 cwt, petrol-engined vehicle is found to cost about £15 per week, whilst weekly costs for electrics in the Express fleet are about £8 10s. for large four-wheeled vehicles, £6 5s. for the Wales and Edwards Rangemasters, just under £3 10s. for the Lewis Electruk Rider Prams and £1 18s, for Lewis Electruk pedestrian electrics. All the vehicles quoted hay( similar load capacities, and as an example of the typt of work the Rider Prams do, some serve an average oi
380 customers a day, selling 3,160 quarts of milk a week and some £70 worth of dairy produce. Lewis pedestrian vehicles are normally used on local rounds, a typical example being a round covering two blocks of flats with 564 customers, selling 2,500 quarts of milk a week and about £80 worth of produce.
Although initially very much more expensive than internal combustion engined vehicles, electrics have an economic life as much as three times that of comparable internal combustion engined vehicles so making the depreciation charge lower. Spares, repairs and maintenance are also lower and the most important consideration, no fuel is needed; the initial cost of the battery, which makes up a large part of the purchase price, must be looked upon as fuel purchased in advance. Recharging, of course, costs money but this is relatively small and does not amount to more than about LI a week even for the largest units.
With batteries used by Express lasting well above five years, the battery cost would be well under the cost of fuel for a petrol-engined vehicle for this period. As an example, a battery on a Wales and Edwards three-wheeler covered 72,000 miles at an average daily mileage of 39.5 miles. With a charging cost of 13s. 6d. per week, the initial cost of the battery £340 and a percentage of the cost of the charging plant required, the total cost for what is in effect the fuel for this mileage was about £500. Fuel for a petrol-engined vehicle on the same type of work for the same mileage would have come to about £1,170. It is obvious why electrics are chosen!
At Contract Price Maintenance of the electric vehicle fleet is carried out by the department under Mr. G. E. Pearson at a contract price. This is included in the total costs mentioned previously. Currently, this is about £4 2s. a week for the larger Morrison and Smiths four-wheelers and the Wales and Edwards Loadmaster artic, about £3 2s. for the Wales and Edwards Rangemaster, and Lewis four-wheeler Rider Prams and for the Lewis pedestrian Electruks.
Electric vehicles require a most specialized and rigid system of maintenance if trouble-free operation is to be obtained. Express splits its operating area of 1,000 sq. miles into three sections with a service depot in each. The main works and repair depot is at Wembley and there are smaller maintenance units at Bromley, Kent, and Watford, Herts. Routine maintenance work is carried out by mobile crews at the depots to which the vehicles are attached. There are three types of crew: one consists of an electric vehicle service engineer, who is primarily an electrician, and two mates, the second a fitter and mate and the third a body repairer and assistant. Regular routine maintenance is the responsibility of the crews which include the electric vehicle service engineer and consists of three basic services, a battery top-up every two weeks, a full electric check every six weeks and greasing every eight weeks.
Every depot is visited by one of these crews every fortnight and the service engineer carries out a full service of the electrical equipment on a third of the vehicles- according to a pre-determined schedule. This service consists of such things as taking and recording battery readings in a log book, checking operating mechanisms and cleaning and adjusting the motor brushes. He also checks lights and inspects tyres and when he has finished his six-weekly services he goes round all the vehicles based at the depot and checks the footand hand-brake operation and at the same time inspects them for bodywork damage. Any defects are noted on a report sheet which is handed to the depot foreman who arranges to have any necessary repairs carried out. Whilst the service engineer is doing his work his two mates go round all the vehicles and top up every battery and, if necessary, clean the battery tops and terminals. Their next job is to grease a proportion of the vehicles at the depot, again according to a schedule, and top up the axles and steering boxes where necessary.
Fitters Call Specially No regular servicing is done by the fitter-and-mate crews; they call at depots to repair vehicles which have been reported on by the depot foreman following the servicing crew's visit or following reports of defects notified by the roundsmen. The same applies to the body repair crews who are capable of working on all types of bodywork—light alloy, glass fibre—and call at retail depots only when necessary, mainly to carry out small accident repairs.
All the crews use radio-controlled vans whieh have been found a very great asset in saving time and money by cutting out unnecessary mileage. This is particularly so in the case of the fitters, who may have as many as 10 calls to make in an afternoon. Being able to get in touch with a fitter who may be in an area where there is a breakdown or near a depot where a vehicle has been found to need urgent attention means that these can be dealt with much more quickly.
All the vans used are virtually fully equipped mobile workshops, those used by the electric vehicle service engineers having test instruments such as hydrometers. voltmeters and calibrating meters, together with spares and materials enabling even major repairs to be undertaken. A considerable variety of spare units and parts to cover the various makes and types of vehicles in the. fleet is carried in the litters' vans. Major repairs are carried out at the depots by using exchange units and in the case of such things as differentials and half-shafts, spares are carried in the vans and the defective part is exchanged for a new unit on the fitter's return to the main depot. In this way each van is kept fully stocked.
Complete Overhaul Every vehicle in tne fleet has a major overhaul every three or four years. This work includes complete overhaul of all electrical and mechanical units and the body, and a repaint. Batteries are checked completely although it is not likely that any new fault will come to light, in view of the extent of the checking done at the routine services. Express does not have batteries overhauled (such as fitting new cells) because it has been found that when one cell goes there will be others near the end of their life and the practice only puts off complete replacement for a short time, savings being balanced by extra costs of battery charges.
The overriding consideration in all the maintenance work is that there shall be maximum availability of the vehicles with a minimum of breakdowns on the road. Probably in no other type of vehicle operation is there such necessity for deliveries to be made on schedule. If the milk does not arrive at its usual time there is every chance a regular cup of tea may be missed. In the weather conditions experienced during January it says a lot for the electric vehicles that they managed to get round side roads which many normal vehicles found impassable. Possibly the roundsmen did well for themselves if only in the amount of sympathy they received from housewives, which acted as a spur to their efforts to get through. The roundsmen certainly deserve sympathy in snow such as they had to contend with. But so does the Express Dairy Co. for the extra costs it had to bear as a result of the weather. This amounted to about £2,000 per week in wages and repairs to vehicles, and the cost of such things as snow chains over the period was over £10,000!