and
1st March 1963
Page 48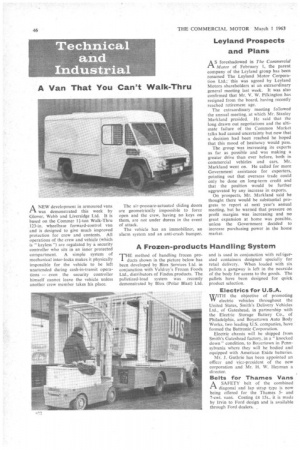 Page 48, 1st March 1963 —
and
Close
A Van That You Can't Walk-Thru
ANEW development in armoured vans was demonstrated this week by Glover, Webb and Liversidge Ltd. It is based on the Commer lf-ton Walk-Thru .123-in, wheelbase forward-control van and is designed to give much improved protection for crew and contents. All operations of the crew and vehicle (which is "keyless ") are regulated by a security controller who sits in an inner protected compartment. A simple system of mechanical inter-locks makes it physically impossible for the vehicle to be left unattended during cash-in-transit operations — even the security controller himself cannot leave the vehicle unless another crew member takes his place.
The air-pressure-actuated sliding doors are geometrically impossible to force open and the crew, having no keys on them, are not under duress in the event of attack.
The vehicle has an immobilizer, an alarm system and an anti-crash bumper.