A Frozen-product s Handling System
1st March 1963
Page 48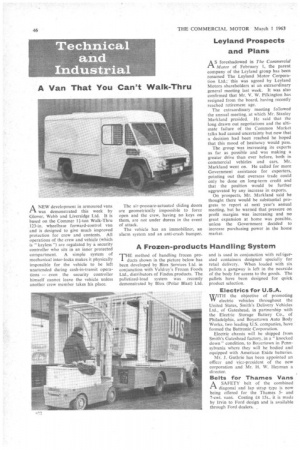 Page 48, 1st March 1963 —
A Frozen-product s Handling System
Close
THE method of handling frozen products shown in the picture below has been developed by Blox Services Ltd in conjunction with Valdrey's Frozen Foods Ltd., distributors of Findus products. The palletized-load system was recently demonstrated by BIox (Polar Blast) Ltd.
and is used in conjunction with refrigerated containers designed specially for retail delivery. When loaded with six pallets a gangway is left in the nearside of the body for access to the goods. The pallets have been designed for quick product selection.
Electrics for U.S.A.
WITH the objective of promoting VY electric vehicles• throughout the United States, Smith's Delivery Vehicles Ltd., of Gateshead, in partnership with the Electric Storage Battery Co., of Philadelphia, and Boyertown Auto Body Works, two leading U.S. companies, have formed the Battronic Corporation.
Electric chassis will be shipped from Smith's Gateshead factory, in a "knocked. down" condition, to Boyertown in Pennsylvania where they will be bodied and equipped with American Exide batteries. Mr. J. Guthrie has been appointed an officer and vice-president of the new corporation and Mr. H. W. Heyman a director.
Belts for Thames Vans A SAFETY belt of the combined 4-1 diagonal and lap strap type is now being offered for the Thames 5and 7-cwt. vans. Costing £4 15s., it is made by Irvin to Ford design and is available through Ford dealers. .