Large B-licence Application in Metropolitan Area
1st March 1963
Page 46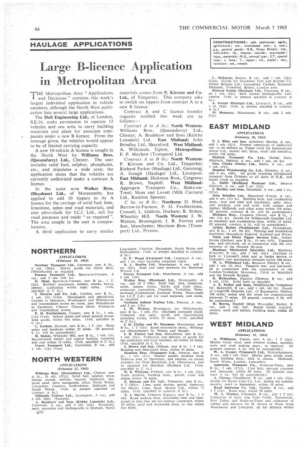 Page 46, 1st March 1963 —
Large B-licence Application in Metropolitan Area
Close
THE Metropolitan Area "Applications and Decisions" contains this week's largest individual application in vehicle numbers, although the North West publication lists several large applications.
The Dell Engineering Ltd., of London, S.E.16, seeks permission to operate 12 vehicles and one artic to carry building materials and plant for associate companies under a new B licence. From the tonnage given, the vehicles would appear to be of limited carrying capacity.
A new 10-vehicle A licence is sought in the North West by Williams Bros. (Queensferry) Ltd., Chester. The user includes solid fuel, sulphur, phosphates, etc., and stipulates a wide area; the application states that the vehicles are currently authorized under a contract A licence.
In the same area Walker Bras. (Heysham) Ltd., of Morecambe, has applied to add 10 tippers to its A licence for the carriage of solid fuel, lime, limestone, ashes and road materials, and also nitro-chalk for 1.C.1. Ltd., salt for road Purposes and oxide "as required ". The area sought in the user is comprehensive.
A third application to carry similar materials Comes from P. Kirrane and Co. Ltd., of Timperley. This company asks to switch six tippers from contract A to a new B licence.
Contract A and C licence transfer requests notified this week are as follows: Contract A to A lic.: North Western: Williams Bros. (Queensferry) Ltd., Chester; A. Bradshaw and Sons (Kirkby Lansdale) Ltd. East Midland: John Brindley Ltd., Sharnford. West Midland: A. Wilkinson, Tipton, Metropolitan: F. P. Mayhew (Transport) Ltd.
Contract A to B tic.: North Western: P. Kirrane and Co. Ltd., Timperley; Richard Parker (Haulage) Ltd., Garstang; A. Gough (Haulage) Ltd., Liverpool. East Midland: Hickman Bros., Cotgrave; R. Brown, Naphill. West Midland: Aggregate Transport Co., Stoke-onTrent; Moss and Lovatt (Milk Carriers) Ltd., Rushton Spencer.
C tic. to B 1k.: Northern: D. Hind, Barrow-in-Furness; P. D. Featherstone, Consett; L. Guthrie, Durham; R. Stoker, Wheatley Hill. North Western: J. W. Watson, Bronington; J. R. Forrest and Son, Manchester; Harrison Bros. (Transport) Ltd., Preston.