A SELF-ADJUSTING TIE-ROD A N interesting design of tie-rod, in which
1st March 1935
Page 38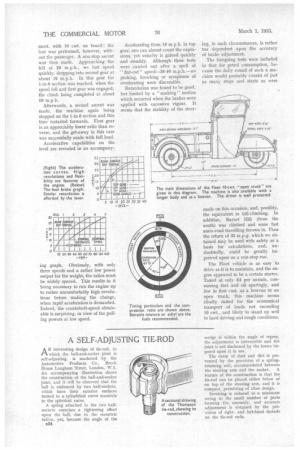 Page 38, 1st March 1935 —
A SELF-ADJUSTING TIE-ROD A N interesting design of tie-rod, in which
Close
the ball-and-socket joint is self-adjusting, is marketed by the Automotive Products Co., Brock House Langham Street, London, W.1. An accompanying illustration shows the construction of the ball-and-socket joint, and it will be observed that the ball is embraced by two half-sockets, which have their exterior surfaces turned to a cylindrical curve eccentric to the spherical curve.
A spring attached to the two halfsockets exercises a tightening effect upon the ball, due to the eccentric action, yet, because the angle of the .a24 wedge is within the angle of repose, the adjustment is irreversible and the joint is not slackened by the forces imposed upon it in use.
The entry of dust and dirt is prevented by the provision of a springretaining seal, accommodated between the steering arm and the socket. A feature of the construction is that the tie-rod can be placed either below or on top of the steering arm, and it is compact, permitting of close design.
Servicing is reduced to a minimum owing to the small number of parts forming the assembly, and accurate adjustment is obtained by the provision of rightand left-hand threads on the tie-rod ends.