The Karrier Bantam in a New Form
1st March 1935
Page 33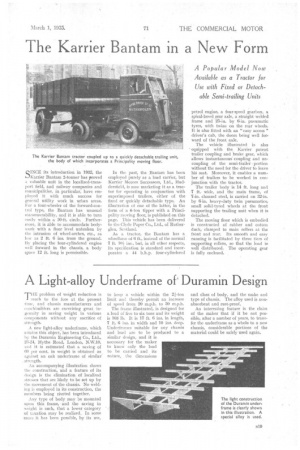 Page 33, 1st March 1935 —
The Karrier Bantam in a New Form
Close
A Popular Model Now Available as a Tractor for Use with Fixed or Detachable Semi-trailing Units SINCE its introduction in 1032, the Karrier Bantam 2-tonner has proved a valuable unit in the localized-transport field, and railway companies and municipalities, in particular, have employed it with much success for general utility work in urban areas. For a four-wheeler of the forward-control type, the Bantam has unusual manceuvrability, and it is able to turn easily within a 30-ft. circle. Furthermore, it is able to accommodate bodywork with a floor level unbroken by the intrusion of wheel-arches, etc., as low as 2 ft. 6 ins, from the ground. By placing the four-cylindered engine well forward in the chassis, a body space 12 ft. long is permissible.
In the past, the Bantam has been employed purely as a load carrier, but Karrier Motors Successors, Ltd., Huddersfield, is now marketing it as a tractor for operating in conjunction with superimposed trailers, either of the fixed or quickly detachable type. An illustration of one of the latter, in the form of a 6-ton tipper with a Principality moving floor, is published on this page. This vehicle has been delivered to the Clyde Paper Co., Ltd., of Rutherglen, Scotland.
As a tractor, the Bantam has a wheelbase of 6 ft., instead of the normal 7 ft. 1.0,7f ins., but, in all other respects, its specification is standard and incorporates a 44 b.h.p. four-cylimiered petrol engine, a four-speed gearbox, a spiral-bevel rear axle, a straight welded frame and 25-in. by 6-in, pneumatic tyres, with twins on the rear wheels. It is also fitted with an "easy access " driver's cab, the doors being well forward of the front axle.
The vehicle illustratedis also equipped with the. Karrier patent trailer coupling and brake gear, which allows instantaneous' coupling and uncoupling of the semi-trailer -portion without the need for the driver to leave his seat. Moreover, it enables a number of trailers to he worked in conjunction with the tractor.
The -trailer body is 14 ft. long and 7 ft., wide, and the main frame, of 7-in, channel steel, is carried on 32-in. by 6-in, heavy-duty twin pneumatics, small solid-tyred wheels at the front supporting the trailing unit when it is detached.
The moving floor which is embodied is constructed of rubber and cotton duck,clamped to main rollers at the front and rear. Its smooth and easy running is facilitated by three tiers of supporting rollers, so that the load is well distributed. The operating gear is fully enclosed. .