Yorkshire Conciliation Campaign A FIGHTING fund amounting to 11 £1,000
1st March 1935
Page 32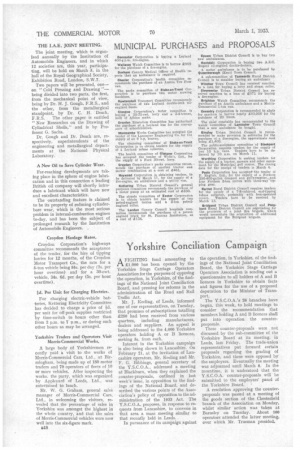 Page 32, 1st March 1935 —
Yorkshire Conciliation Campaign A FIGHTING fund amounting to 11 £1,000
Close
has been opened by the Yorkshire Stage Carriage Operators Association for the purposes of opposing the operation, in Yorkshire, of the findings of the National Joint Conciliation Board, and pressing for reforms in the administration of the Road and Rail Traffic Act.
Mr. J. Keeling, of Leeds, informed one of our representatives, on Tuesday, that promises of subscriptions totalling £250 had been received from various quarters, including manufacturers, dealers and suppliers. An appeal is being addressed to the 4,000 Yorkshire operators holding A or B licences, seeking 5s. from each.
Interest in the Yorkshire campaign is also being shown in Lancashire. On February 21, at the invitation of Lancashire operators, Mr. Keeling and Mr. F. G. Bibbings, general secretary of the Y.S.C.O.A" addressed a meeting at Blackburn, when they explained the counter-proposals, outlined in last week's issue, in opposition to the findings of the National Board, and described the various points of the Association's policy of opposition to the administration of the 1933 Act. The Y.S.C.O.A. proposes, in response to requests from Lancashire, to convene in that area a mass meeting similar to that recently held in Leeds.
In pursuance of its campaign against the operation, in Yorkshire, of the findings of the National Joint Conciliation Board, the Yorkshire Stage Carriage Operators Association is sending out a questionnaire to all holders of A and B licences in Yorkshire to obtain facts and figures for the use of a proposed deputation to the Minister of Transport.
The Y.S.C.O.A.'s 26 branches have begun, this week, to hold meetings to consider the recommendation that members holding A and B licences shall put into operation the counterproposals.
These counter-proposals were not discussed by the sub-committee of the Yorkshire Board at its meeting, in Leeds, last Friday. The trade-union representatives put forward certain proposals regarding the grading of Yorkshire, and these were apposed by the employers. Eventually the meeting was adjourned until March 8. In the meantime, it is understood that the Y.S.C.O.A. counter-proposals will be submitted to the employers' panel of the Yorkshire Board.
A resolution approving the counterproposals was passed at a meeting of the goods section of the Chesterfield branch of the Association on Monday, whilst similar action was taken at Barnsley on Tuesday. About 100 operators attended the latter meeting, over which Mr. Trueman presided.