THE I.A.E. JOINT MEETING.
1st March 1935
Page 32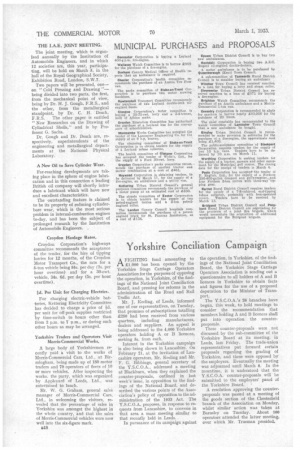 Page 32, 1st March 1935 —
THE I.A.E. JOINT MEETING.
Close
The joint meeting, which is organized annually by the Institution of Automobile Engineers, and in which 12 societies are, this year, participating, will be held on March 5, in the hall of the Royal Geographical Society, Exhibition Road, London, S.W.7. Two papers will be presented, one— on "Cold Pressing and Drawing "— being divided into two parts, the first, from the mechanical point of view, being by Dr. H. J. Gough, F.R.S., and the other, from the metallurgical standpoint, by Dr. C. H. Desch,
F.R.S. The other paper is entitled " New Researches on the Drawing of Cylindrical Shells," and is by Professor G. Sachs.
Dr. Gough and Dr. Desch are, respectively, superintendents of the engineering and metallurgical departments at the National Physical Laboratory.
A New Oil to Save Cylinder Wear.
Far-reaching developments are taking place in the sphere of engine lubrication and in this connection a leading. British oil company will shortly introduce a lubricant which will have new and excellent characteristics.
The outstanding feature is claimed to be its property of reducing cylinder. bore wear, which is the most serious probleta in internal-combustion engines to-day, and has been the subject of prolonged research by the Institution of Automobile Engineers.
Croydon Haulage Rates.
Croydon Corporation's highways committee recommends the acceptance of the tender, for the, hire of tipping lorries for 12 months, of the Croydon Motor Transport Co., the rate for a 5-ton vehicle being 55s. per day (7s. per hour overtime) and for a 30-cwt. vehicle, 34s. (id. per day (5s. per hour overtime).
id. Per Unit for Charging Etectrics.
For charging electric-vehicle batteries, Kettering Electricity Committee has decided to charge a price of id. per unit for off-peak supplies restricted by time-switch to hours other than from 3 p.m. to 7 p.m., or during such other hours as may be arranged.
Yorkshire Traders and Operators Visit Morris-Commercial Works.
A large body of Yorkshiremen recently paid a visit to the works of Morris-Commercial Cars, Ltd., at Birmingham, being made up of 180 motor traders and 70 operators of fleets of 10 or more vehicles. After inspecting the works, the party, which was organized by Appleyard of Leeds, Ltd., was entertained to lunch.
Mr. W. G. Graham, general sales manager of Morris-Commercial Cars, Ltd., in welcoming the visitors, revealed that the percentage of sales in Yorkshire was amongst the highest iii the whole country, and that the sales of Morris-Commercial vehicles were now well into the six-figure mark.
1318