Special Features of this Issue
1st March 1935
Page 26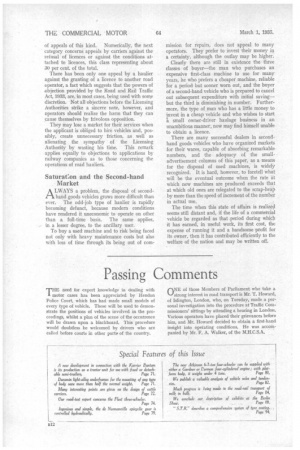 Page 27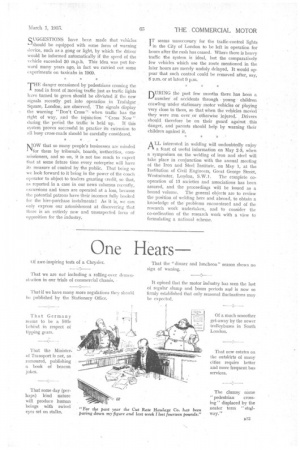 Page 26, 1st March 1935 —
Special Features of this Issue
Close
A new development in connection with the Karrier Bantam is its production as a tractor unit for use with fixed or detach
able semi-trailers, Page 71.
Duramin light-alloy underframes for Me mounting of any type of body save more than half the normal weight. Page 71.
Many interesting points _are given on the design of cattle carriers. Page 72.
Our road-test report concerns the Fleet three-wheeler.
Page 74.
Ingenious and simple, the de Normanville epicyclic gear is
controlled hydrcadically. Page 79.
The new Atkinson 6-7-ton four-wheeler ran be supplied with either a Gardner or Dorman four-cylindered engine; with plat
form body, it weighs under 4 tons. Page 80. We publish a valuable analysis of vehicle sales and tenden cies. Page 82. Much progress is being made in the road-rail transport of
milk in bulk. Page E.4, We conclude our description of exhibits al the Berlin
Show. Page e8. " S.T.R.describes a comprehensive :ystern of tyre costing.
Page 94.
" t.IGGESTIONS have been made that vehicles should be equipped with some form of warning device, such as a gong or light, by which the driver would be informed automatically if the speed of the vehicle exceeded 30 m.p.h. This idea, was put forward many years ago,in fact we carried out some experiments on taxicabs in 1999.
THE danger occasioned by pedestrians crossing the road in front of moving traffic just as traffic lights have turned to green should be obviated if the new signals recently put into operation in Trafalgar Square, London, are observed. ' The signals display the warning "Don't Cross when traffic has the right of way, and the injuisction "Cross Now"
during the 'period the traffic is held up. If this system proves successful in practice its extension to all busy cross-roads should be carefully considered.
MOW that so many people's businesses are minded
I for them by tribunals, boards, 'authorities, commissioners, and so on, it is not too much to expect that at some future time every enterprise will have its measure of control by the public. That being so we look forward to it being in the power of the coach operator to object to traders granting credit, so that, as reported in a case in our news columns recently, excursions and tours are operated at a loss, because the potential patrons have their incomes fully booked for the hire-purchase instalments! As it is, we can only express our astonishment at discovering that there is an entirely new and unsuspected form of opposition for the industry.
IT seems unnecessary for the traffic-control lights in the City of London to be left in operation for hours after the rush has ceased. Where there is heavy traffic the system is ideal, but the comparatively few vehicles which use the route mentioned in the later hours are merely unduly delayed. It would appear that such control could be removed after, say, 8 p.m. or at latest 9 p.m.
DURING the past •few months there has been a l/number of aecidents through young children crawling under stationary motor vehicles or playing very close to them, so that when the vehicles moved they were run over or otherwise injured: Drivers should therefore be on their guard against this danger., and parents should help by warning their children against it.
A LL interested in welding will undoubtedly enjoy 1-1 a feast of useful information on May 2-3, when a symposium on the welding of iron and steel will take place in conjunction with the annual meeting of the Iron and Steel Institute, on May 1, at the Institution of Civil Engineers, Great George Street, Westminster, London, S.W.1. The complete cooperation of 13 societies and associations has been assured, and the proceedings will be issued as a bound volume. The general objects are to review the position of welding here and abroad, to obtain a knowledge of the problems encountered and of the research work undertaken, and to consider the co-ordination of the research work with a view to formulating a national scheme.