One Hears
1st March 1935
Page 27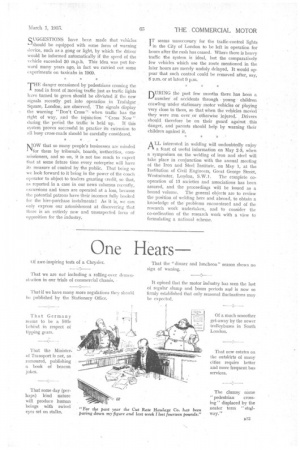 Page 27, 1st March 1935 —
One Hears
Close
of awe-inspiring tests of a Chrysler.
That we are not including a rolling-over demonstration in our trials of commercial chassis.
That if we have many more regulations they should be published by the Stationary Office.
That Germany seems to be a little behind in respect of tipping gears.
That the Minister, of Transport is not, as rumoured, publishing a book of beacon jokes.
That some day (perhaps) kind nature will produce human beings with swivel eyes set on stalks. That the "dinner and luncheon" season shows no sign of waning. .
It opined that the motor industry has seen the last of regular .slump and boom periods and is now so firmly established that only seasonal fluctuations may be expected.
Of a much smoother get-away by the newer trolleyb uses in South London.
That new estates on the outskirts of many cities require better and more frequent bus services.
The clumsy name
pedestrian crossing" displaced by the neater term " stueway."