Restrictions after 36 residents object
1st June 1985
Page 8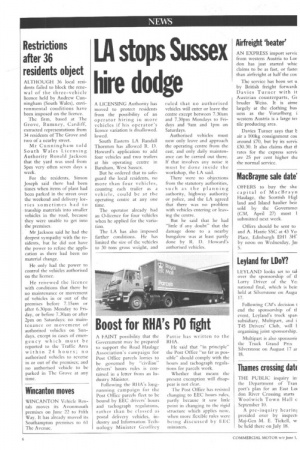 Page 8, 1st June 1985 —
Restrictions after 36 residents object
Close
ALTHOUGH 36 local residents failed to block the renewal of the three-vehicle licence held by Andrew Cunningham (South Wales), environmental conditions have been imposed on the licence.
The firm, based at The Grove, Rumney, Cardiff, extracted representations from 34 residents of The Grove and two of a nearby street.
Mr Cunningham told South Wales Licensing Authority Ronald Jackson that the yard was used from 5pm very often seven days a week,
For the residents, Simon Joseph said there had been times when items of plant had been parked in the street over the weekend and delivery lorries sometimes had to tranship materials into smaller vehicles in the road, because • they were unable to get into the .premises.
• Mr Jackson said he had the deepest sympathy with the residents, but he did not have the power to refuse the application as there had been no material change.
He only had the power to control the vehicles authorised on the licence.
He renewed the licence with conditions that there be no maintenance or movement of vehicles in or out of the premises before 7.15am or after 6.30pm Monday to Friday, or before 7.30am or after 2pm on Saturdays; no maintenance or movement of authorised vehicles on Sundays, except in cases of emergency which must be reported to the Traffic Area within 24 hours; no authorised vehicles to reverse in or out of the premises; and no authorised vehicle to be parked in The Grove at any time,