FIXED RATES IN A CHANGING MARKET
1st June 1985
Page 55
Page 56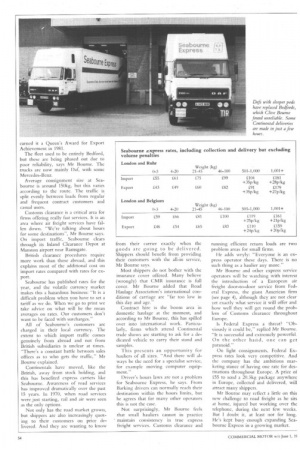 Page 55, 1st June 1985 —
FIXED RATES IN A CHANGING MARKET
Close
Scabourne Express's pledge is direct delivery to the near Continent within 24 hours, and double your money back if it fails — all on fixed rates. Jack Semple reports
THE next six weeks or so are going to be frustrating for Clive Bourne, founder and managing director of Seabourne Express. Normally, much of his time is spent travelling around his European parcels network, but torn ligaments have put paid to that fiar a while.
His itinerary shows the extent to which he has developed the business, which he set up with one lorry in 1962, aged 18. Then, his base was a small building in a graveyard in East London, and he ran to Paris.
Now he has depots in London, Bristol, Birmingham, Manchester and Glasgow, and offices in France, Belgium, Holland and Sweden. Seabourne agents are in Ireland, Italy, Denmark and Germany, including Munich and Berlin. Mr Bourne's target is to build up a network operating as widely as TNT IPEC.
Unlike the Australian-owned firm, Seabourne will not develop a hub based system. (Most TNT IPEC traffic is fed through a hub depot at Antwerp.) It will continue to expand its pattern of direct •deliveries from its consolidation point in Barking, London.
Seabourne has a fleet of 100 trucks. Collection and delivery work is done by 60 vans, with the same number again driven by owner drivers under exclusive long-term contract. Abroad, most of the c and d work is done by local parcels carriers.
Around 40 lorries, mainly rigids, do the international work. Payload ranges from 3 tonnes to 16 tonnes, giving Seabourne essential flexibility. Traffic tonnages fluctuate very much on most of the routes depending on the time of year and the value of Sterling. Multi-national manufacturers, switch source depending. on the strength of the pound.
"Traffic varies dramatically from month to month and destination to destination," says Mr Bourne.
All the international work is done by Seabourne Express employees. The drivers are unionised, but the company has never had a strike, a fact of which Mr Bourne is understandably proud. "We have very, very good staff relations, and all the staff have the same -conditions, including sickness pay and pensions. And we do not lay off staff."
Service levels are delivery door-todoor within 24 hours to Paris, Belgium, Holland, the Rhine, Ruhr, the Channel Islands and Ireland, with an additional 24 hours to further destinations. Discounts of around 20 per cent are offered on less on less time-sensitive traffic.
The company offers a "Double your money back" guarantee against delay on express deliveries, providing it is responsible for the hold-up. Its success rate earned it a Queen's Award for Export Achievement in 1981.
The fleet used to be entirely Bedford, but these are being phased out due to poor reliability, says Mr Bourne. The trucks are now mainly Dar, with some Mercedes-Benz.
Average consignment size at Seabourne is around 150kg, but this varies according to the route. The traffic is split evenly between loads from, regular and frequent contract customers and casual users.
Customs clearance is a critical area for firms offering really fast services. It is an area where air freight services have fallen down. "We're talking about hours for some destinations", Mr Bourne says. On import traffic, Seabourne clears through its Inland Clearance Depot at Mansion airport near Ramsgate.
British clearance procedures require more work than those abroad, and this explains most of the additional cost on import rates compared with rates for export Seabourne has published rates for the year, and the volatile currency market makes this a hazardous business: "It is a difficult problem when you have to set a tariff as we do. When we go to print we take advice on what will be the mean averages on rates. Our customers don't want to be faced with surcharges."
All of Scabourne's customers are charged in their local currency. The extent to which import traffic comes genuinely from abroad and not from British subsidiaries is unclear at times. "There's a constant battle between sales offices as to who gets the traffic," Mr Bourne explained.
Continentals have moved, like the British, away from stock holding, and this has benefited express carriers like Seabourne. Awareness of road services has improved dramatically over the past 15 years. In 1970, when road services were just starting, rail and air were seen as the only options.
Not only has the road market grown, but shippers are also increasingly quoting to iheir customers on price delivered. And they are wanting to know from their carrier exactly when the goods are going to be delivered. Shippers should benefit from providing their customers with the all-in service, Mr Bourne says.
Most shippers do not bother with the insurance cover offered. Many believe (wrongly) that CMR insurance is full cover. Mr Bourne added that Road Haulage Association's international conditions of carriage are "far too low in this day and age."
Contract hire is the boom area in domestic haulage at the moment, and according to Mr Bourne, this has spilled over into international work. Particularly, firms which attend Continental trade shows are starting to ask for a dedicated vehicle to carry their stand and samples.
This presents an opportunity for hauliers of all sizes. "And there will always be the need for a specialist service, for example moving computer equipment."
Driver's hours laws are not a problem for Seabourne Express, he says. From Barking drivers can normally reach their destination within the hours limits, but he agrees that for many other operators this is not the case.
Not 'surprisingly, Mr Bourne feels that small hauliers cannot in practice ' maintain consistency in true express freight services. Customs clearance and
running efficient return loads are two problem areas for small firms.
He adds wryly: "Everyone is an express operator these days. There is no such thing as a haulier any more."
Mr Bourne and other express service operators will be watching with interest the introduction of a European air freight door-to-door service from Federal Express, the .giant American firm (see page 4), although they are not clear yet exactly what service it will offer and how well they will get round the problem of Customs clearance throughout Europe.
Is Federal Express a threat? "Obviously it could be," replied Mr Bourne. "It is successful and extremely powerful. On the other harid, one can get paranoid."
On light consignments, Federal Express rates look very competitive. And the company has the ambitions marketing stance of having one rate for destinations throughout Europe. A price of £55 to send a 20.5kg package anywhere in Europe, collected and delivered, will attract many shippers.
Mr Bourne may reflect a little on this new challenge to road freight as he sits at home, injured but working over the telephone, during the next few weeks. But 1 doubt it, at least not for long. He's kept busy enough expanding Seabourne Express in a growing market.