'ederal Express, the world's ■ iggest express parcels arricr, is stepping up its
1st June 1985
Page 5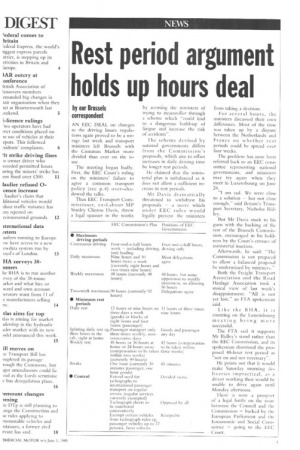 Page 5, 1st June 1985 —
'ederal Express, the world's ■ iggest express parcels arricr, is stepping up its
Close
ctivities in Britain and Rest period argument
:urope. 4
holds up hours deal
by our Brussels correspondent AN EEC DEAL on changes to the driving hours regulations again proved to be a mirage last week and transport ministers left Brussels with the Common Market more divided than ever on the issue.
The meeting began badly. First, the EEC Court's ruling on the ministers' failure to agree a common transport policy (sec p.4) over-shadowed the talks.
Then EEC Transport Commissioner, ex-Labour MP Stanley Clinton Davis, threw a legal spanner in the works
by accusing the ministers of trying to steamroller through a scheme which "could lead to a dangerous build-up of fatigue and increase the risk of accidents".
The scheme devised by national governments differs from the Commission's proposals, which aim to offset increases in daily driving time by longer rest periods.
I le claimed that the ministerial plan is unbalanced as it does not allow a sufficient increase in rest periods.
Mr Davis draimitically threatened to withdraw his proposals — a move which under EEC rules would legally prevent the ministers from taking a decision.
For several hours, the ministers discussed their own differences. Most of the time was taken up by a dispute between the Netherlands and France on whether rest periods could he spread over four weeks.
The problem has now been referred back to an EEC committee representing national governments, and ministers may try again when they meet in Luxembourg on June 24.
"1 am sad. We were close to a solution — but not close enough," said Britain's Transport Secretary, Nicholas Ridley.
But Mr Davis stuck to his guns with the backing of the rest of the Brussels Commission, encouraged in his boldness by the Court's censure of ministerial inaction.
Afterwards, he said: "The Commission is not prepared to allow a balanced proposal be undermined by ministers."
Both the Freight Transport Association and the Road Haulage Association took a stoical view of last week's disappointment. "All is not yet lost," an FTA spokesman said.
Like the RHA, it is counting on the Luxembourg meeting being more successful.
The FTA said it supports Mr Ridley's stand rather than the EEC Commission, and its spokesman dismissed the proposed 48-hour rest period as "not on and not necessary".
He points out that it would make Saturday morning deliveries impractical, as a driver working then would be unable to drive again until Monday afternoon.
There is now a prospect of a legal battle on the issue between the Council and the Commission — backed by the European Parliament and the Eononomic and Social Committee — going to the EEC Court.