MERCEDES
1st June 1985
Page 46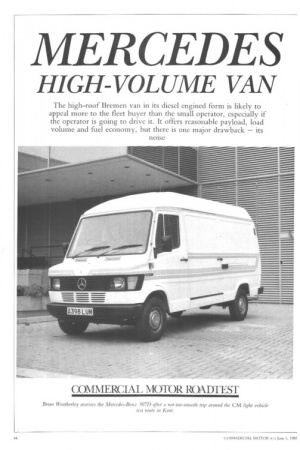 Page 47
Page 48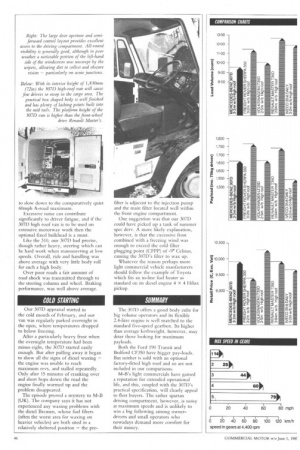 Page 46, 1st June 1985 —
MERCEDES
Close
HIGH-VOLUME VAN
The high-roof Bremen van in its diesel engined form is likely to appeal more to the fleet buyer than the small operator, especially if the operator is going to drive it. It offers reasonable payload, load volume and fuel economy, but there is one major drawback — its noise
EVER since it introduced the Bremen van into Britain seven years ago, Mercedes-Benz has devoted by far the greatest part of its marketing effort to the sales of diesel engined models. Indeed, when the original Bremen range was launched in the UK in late 1977 there were no petrol-engined variants. Operators wanting a petrol Bremen had to wait until 1980.
The diesel first, petrol second, policy shows up clearly in UK Bremen sales. Of the 5,304 vans sold by M-B last year only 925 less than a fifth — were petrol units.
M-B's commitment to diesel vans may have been at odds with the traditional bias towards petrol in the UK van market of seven years ago, but diesel engined vans have since been rapidly gaining ground. This has not only been true of the large van fleets, interest generally has been stimulated by the recent launch of Ford's 2.5 directinjection Transit diesel engine and the much publicised Iveco 2.5 di turbocharged unit which is expected to arrive in the UK at the end of the year.
It is appropriate that the largest diesel engined Bremen van — the 3.5 tonne gvw 307D powered by the 2.4—litre indirect-injection OM 616 engine — should be road tested in CM's parcels number as it is proving a popular choice
with many large UK parcels carriers.
Despite its higher than average kerbweight, the 3.35m (11ft) wheelbase 307D has a useful 1,700kg (33.5cwt) payload allowance and a good load volume of 8.59cum (307cuft). This increases to an impressive 9.6cum (339cult) on the high-roof version.
FUEL ECONOMY
When CM tested the 307D's petrol powered twin brother — the 310 (CM April 7, 1984) — it gave a disappointing 16.9 lit/100km (16.6mpg). The fully laden 3071) high-roof managed to improve on this returning 14.3 lit/ 100km (19.7mpg).
Unladen, this rose to 12.4 lit/100km (22.6mpg). For a diesel van one might have expected a better figure on the laden run, although the extra drag of the high roof was clearly affecting consumption.
The 307D is priced at A:9,380 — 050 more than the basic 310. On fuel costs alone an operator must cover at least 45,000 miles in the diesel 3071) before he starts to save by its better fuel economy.
This basic calculation, however, does not take into account factors including the maintenance cost of the diesel Bremen which has a 4,000-mile oil change interval compared with the 310's 6,000-mile period.
While a 3071) would be likely to clock up 45,000 miles with a large fleet operator well within a year, a smaller operator doing lower mileages must consider whether the extra 050 for the diesel 3071) would be better invested elsewhere.
Basic 307D specification has changed little since 1982, when the power output of all of M-B's diesel vans and chassis cabs was increased to 53kW (71hp) and a five-speed gearbox adopted as standard. But five months ago the 3071)'s rearaxle ratios were revised to reduce the revs and fuel consumption of the 0M616 engine at motorway speeds. The previously standard 4.9:1 rear axle is now optional, having been replaced by a faster 4.4:1 unit.
What differences there are in hill performance and acceleration between the 53kW 307D and the 70k W 310 are evened out by the good flexibility of the 307D's 2.4-litre diesel matched with the direct-top, five-speed box. The OM 616 engine delivers peak torque of 137Nm (100 lbft) at 2,400rpm which allows the 3071) to pull down to 30 mph in top gear without difficulty.
Even fully laden it will pull away comfortably in second gear from rest. This is just as well as the change from first to second ratio is rather awkward and on our test van the whole gearbox had a very notchy feel to it.
CAB COMFORT
M-B's extensive use of black plastic in the dashboard, engine cover and door panels provides a practical if rather sombre finish to the 307D cab. All instrumentation and controls are sensibly laid out and the typically firm MercedesBenz seats give good support at the base of the spine right where it is needed.
The 307D cab has plenty of room for the driver and gives easy access into the cargo area once the long floor-mounted gear lever and engine cover are negotiated. There is also plenty of stowage space for the driver, although a locking glovebox is lacking.
But the cab has one major drawback — it is noisy. To be fair, the high-roof panel van is certainly one of the most difficult vehicles to insulate against noise. Compared with other diesel vans tested by CM, however, the 307D is among the noisiest. Comfortable levels of 76-78 dB(A) at 40mph soon gave way to a deafening 88-89 dB(A) at 70mph along the M25 section of our route, occasionally peaking at 90 dB(A).
The cacophony is a combination of engine and transmission noise, body boom, and the wind whistling past the deep doors. After 100 miles of motorway running I was more than glad
to slow down to the comparatively quiet 60mph A-road maximum.
Excessive noise can contribute significantly to driver fatigue, and if the 3071) high roof van is to be used on extensive motorway work then the optional fixed bulkhead is a must.
Like the 310, our 3071) had precise, though rather heavy, steering which can be hard work when manoeuvring at low speeds. Overall, ride and handling was above average with very little body roll for such a high body.
Over poor roads a fair amount of road shock was transmitted through to the steering column and wheel. Braking performance, was well above average.
COLD STARTING
Our 307D appraisal started in the cold month of February, and our van was regularly parked overnight in the open, where temperatures dropped to below freezing.
After a particularly heavy frost when the overnight temperature had been minus eight, the 3071) started easily enough. But after pulling away it began to show all the signs of diesel waxing — the engine was unable to reach maximum revs, and stalled repeatedly. Only after 15 minutes of cranking over and short hops down the road the engine finally warmed up and the problem disappeared.
The episode proved a mystery to M-B (UK). The company says it has not experienced any waxing problems with the diesel Bremen, whose fuel filters (often the worst area for waxing on heavier vehicles) are both sited in a relatively sheltered position — the pre filter is adjacent to the injection pump and the main filter located well within the front engine compartment.
One suggestion was that our 307D could have picked up a tank of summer spec derv. A more likely explanation, however, is that the excessive frost combined with a freezing wind was enough to exceed the cold filter plugging point (CFPP) of -9° Celsius, causing the 307D's filter to wax up.
Whatever the reason perhaps more light commercial vehicle manfacturers should follow the example of Toyota which fits an in-line fuel heater as standard on its diesel engine 4 x 4 Hilux pickup.
SUMMARY
The 307D offers a good body cube for big volume operators and its flexible 2.4-litre engine is well matched to the standard five-speed gearbox. Its higher than average kerbvveight, however, may deter those looking for maximum payloads.
Both the Ford 190 Transit and Bedford CF350 have bigger pay-loads. But neither is sold with an optional factory-fitted high roof and so are not included in our comparisons_
M-B's light commercials have gained a reputation for extended operational life, and this, coupled with the 307D's practical specification, will clearly appeal to fleet buyers. The rather spartan driving compartment, however, is noisy at maximum speeds and is unlikely to win a big following among ownerdrivers and small operators who nowadays demand more comfort for their money.