NEW LIFE AT 40 FOR IRTE
1st June 1985
Page 40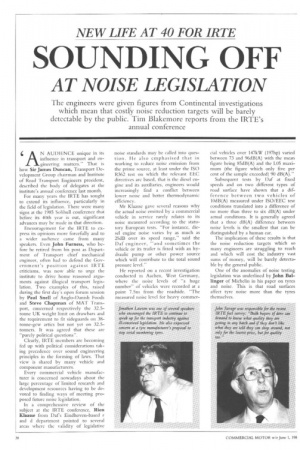 Page 41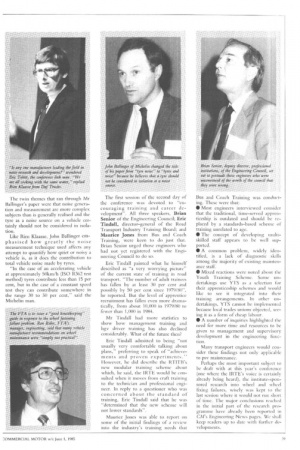 Page 40, 1st June 1985 —
NEW LIFE AT 40 FOR IRTE
Close
SOUNDING OFF
AT NOISE LEGISLATION
The engineers were given figures from Continental investigations which mean that costify noise reduction targets will be barely detectable by the public. Tim Blakemore reports from the IRTE's annual conference
' N AUDIENCE unique in its
A
influence in transport and en
_L gineering matters." That is how Sir James Duncan, Transport Development Group chairman and Institute of Road Transport Engineers president, described the body of delegates at the institute's annual conference last month.
For many years the IRTE has sought to extend its influence, particularly in the field of legislation. There were many signs at the 1985 Solihull conference that before its 40th year is out, significant advances may be made in that direction.
Encouragement for the IRTE to express its opinions more forcefully and to a wider audience came from many speakers. Even John Furness, who before he retired from his post as Department of Transport chief mechanical engineer, often had to defend the Government's position against IRTE criticisms, was now able to urge the institute to drive home reasoned arguments against illogical transport legislation. Two examples of this, raised during the first day's open forum session by Paul Snell of Anglo-Danish Foods and Steve Chapman of MAT Transport, concerned respectively the 32.5tonne UK weight limit on drawbars and the requirement to fit sideguards on 38tonne-gcw artics but not yet on 32.5tonners. It was agreed that these are "purely political questions".
Clearly, IRTE members are becoming Fed up with political considerations taking precedence over sound engineering principles in the forming of laws. That view is shared by many vehicle and component manufacturers.
Every commercial vehicle manufacturer is concerned nowadays about the large percentage of limited research and development resources having to be devoted to finding ways of meeting proposed future noise legislation.
In a comprehensive review of the subject at the IRTE conference, Rien Klaasse from Daf s Eindhoven-based r and d department pointed to several areas where the validity of legislative
noise standards may be called into question. He also emphasised that in working to reduce noise emission from the prime source, at least under the ISO R362 test on which the relevant EEC directives are based, that is the diesel engine and its auxiliaries, engineers would increasingly find a conflict between lower noise and better thermodynamic
efficiency.
Mr Klaasse gave several reasons why the actual noise emitted by a commercial vehicle in service rarely relates to its noise measured according to the statutory European tests. "For instance, diesel engine noise varies by as much as 25dB over its speed range," said the Daf engineer, "and sometimes the vehicle or its trailer is fitted with art hydraulic pump or other power source which will contribute to the total sound pressure level."
He reported on a recent investigation conducted in Aachen, West Germany, where the noise levels of "a huge number" of vehicles were recorded at a point 7.5m from the roadside. "The measured noise level for heavy cornmer cial vehicles over 147kW (197hp) varied between 73 and 96dB(A) with the mean figure being 85dB(A) and the L05 maximum (the figure which only five per cent of the sample exceeded) 90 dB(A)."
Subsequent tests by Daf at fixed speeds and on two different types of road surface have shown that a difference between two vehicles of 10dB(A) measured under ISO/EEC test conditions translated into a difference of no more than three to six dB(A) under actual conditions. It is generally agreed that a three dB(A) difference between noise levels is the smallest that can be distinguished by a human ear.
The implication of these results is that the noise reduction targets which so many engineers are struggling to reach and which will cost the industry vast sums of money, will be barely detectable by the general public.
One of the anomalies of noise testing legislation was underlined by John Ballinger of Michelin in his paper on tyres and noise. This is that road surfaces affect tyre noise more than the tyres themselves.
The twin themes that ran through Mr Ballinger's paper were that noise genera tion and measurement are more complex subjects than is generally realised and the tyre as a noise source on a vehicle certainly should not be considered in isolation.
Like Rien Klaasse, John Ballinger emphasised how greatly the noise measurement technique used affects any attempt to quantify how quiet or noisy a vehicle is as it does the contribution to total vehicle noise made by tyres.
"In the case of an accelerating vehicle at approximately 50km/h (ISO R362 test method) tyres contribute less than 15 per cent, but in the case of a constant speed test they can contribute somewhere in the range 30 to 50 per cent," said the Michelin man.
The first session of the second day of the conference was devoted to "encouraging training and career development". All three speakers, Brian Senior of the Engineering Council; Eric Tindall, director-general of the Road Transport Industry Training Board; and Maurice Jones from Bus and Coach Training, were keen to do just that. Brian Senior urged those engineers who had not yet registered with the Engineering Council to do so.
Eric Tindall painted what he himself described as "a very worrying picture" of the current state of training in road transport. "The number of adult trainees has fallen by at least 30 per cent and possibly by 50 per cent since 1979/8(Y', he reported. But the level of apprentice recruitment has fallen even more dramatically, from about 10,000 in 1979/80 to fewer than 1,000 in 1984.
Mr Tindall had more statistics to show how management training and hgv driver training has also declined considerably. What of the future then?
Eric Tindall admitted to being "not usually very comfortable talking about plans," preferring to speak of "achievements and proven experiments."' However, he did describe the RTITB's new modular training scheme about which, he said, the IRTE would be consulted when it moves from craft training to the technician and professional engineer. in reply to a questioner who was concerned about the standard of training, Eric Tindall said that he was "determined that the new scheme will not lower standards".
Maurice Jones was able to report on sonic of the initial findings of a review into the industry's training needs that Bus and Coach Training was conducting. These were that: • Most engineers interviewed consider that the traditional, time-served apprenticeship is outdated and should be replaced by a standards-based scheme of training unrelated to age.
• The concept of developing multiskilled staff appears to be well supported.
• A common problem, widely identified, is a lack of diagnostic skills among the majority of existing maintenance staff.
• Mixed reactions were noted about the Youth Training Scheme. Some undertakings use YTS as a selection for their apprenticeship schemes and would like to see it integrated into their training arrangements. In other undertakings, YTS cannot be implemented because local trades unions objected, seeing it as a form of cheap labour.
• A number of inquiries highlighted the need for more time and resources to be given to management and supervisory development in the engineering function.
Many transport engineers would consider these findings not only applicable to psv maintenance.
Perhaps the most important subject to be dealt with at this year's conference (one where the IRTE's voice is certainly already being heard), the institute-sponsored research into wheel and wheel fixing failures, wisely was kept to the last session where it would not run short of time. The major conclusions readied in the initial part of the research programme have already been reported in CM 's Engineering News pages. We shall keep readers up to date with further developments.