NEXT WEEK
1st June 1985
Page 4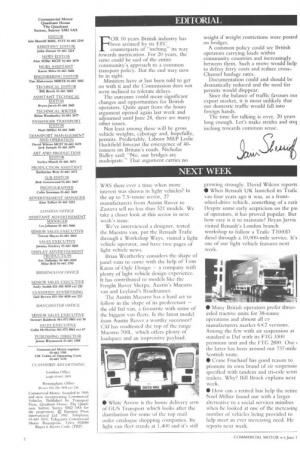 Page 4, 1st June 1985 —
NEXT WEEK
Close
WAS there ever a time when more interest was shown in light vehicles? In the up to 7.5-tonne sector, 27 manufacturers from Austin Rover to Zastava sell no less than 521 models. We take a closer look at this sector in next week's issue.
We've interviewed a designer, tested the Maestro van, put the Renault Trafic through a Workshop Ways, visited a light vehicle operator, and have two pages of light vehicle news.
Brian Weatherley considers the shape of panel vans to come with the help of Tom Karen of Ogle Design — a company with plenty of light vehicle design experience. It has contributed CO models like the Freight Rover Sherpa, Austin's Maestro van and Leyland's Roadrunner.
The Austin Maestro has a hard act to follow in the shape of its predecessor — the old hal van, a favourite with some of the biggest van fleets. Is the latest model from Austin Rover a worthy successor? CM has roadtested the top of the range Maestro 700L, which offers plenty of loadspacc and an impressive payload.
• White Arrow is the home delivery arm of GUS Transport which looks after the distribution for some of the top mail order catalogue shopping companies. Its light van fleet stands at 1,400 and it's still growing strongly. David Wilcox reports • When Renault UK launched its Trafic van four years ago it was, as a frontwheel-drive vehicle, something of a rarit Despite some early scepticism on the pai of operators, it has proved popular. But how easy is it to maintain? Bryan Jarvis visited Renault's London branch workshop to follow a Trafic T1000D diesel through a 10,000-mile service. It's one of our light vehicle features next week.
• Many British operators prefer threeaxled tractive units for 38-tonne operations and almost all cv manufacturers market 6X2 versions. Among the few with air suspension as standard is Daf with its FIG 3300 premium unit and the FTC 2800. One the latter has been around our 737-mile Scottish route.
• Crane Fruehauf has good reason to promote its own brand of air suspensio: specified with tandem and tri-axle semitrailers. Why? Bill Brock explains next week.
• I low can a retired bus help the retire Noel Minimfound out with a larger alternative to a social services minibus when he looked at one of the increasin number of vehicles being provided to help meet an ever increasing need. He reports next week.