F OR 10 years British industry has been accused by its
1st June 1985
Page 4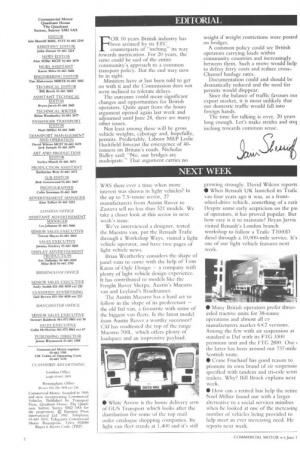 Page 4, 1st June 1985 —
F OR 10 years British industry has been accused by its
Close
EEC counterparts of "inching" its way towards metrication. For 20 years, the same could be said of the entire community's approach to a common transport policy. But the end may now be in sight. Ministers have at last been told to get on with it and the Commission does not seem inclined to tolerate delays.
The outcome could mean significant changes and opportunities for British operators. Quite apart from the hours argument opened again last week and adjourned until June 24, there are many other issues.
Not least among these will be gross vehicle weights, cabotage and, hopefully, 'permits. Predictably, Labour MEP Leslie Huckfield forecast the emergence of 40tonners on Britain's roads. Nicholas Ridley said: "No, our bridges are inadequate." That argument carries no weight if weight restrictions were posted on bridges.
A common policy could see British operators carrying loads within community countries and increasingly between them. Such a move would help to defray ferry costs and reduce crossChannel haulage rates. Documentation could and should be dramatically reduced and the need for permits would disppear. Since the balance of traffic favours out export market, it is most unlikely that our domestic traffic would fall into foreign hands.
The time for talking is over, 20 years long enough. Let's make strides and stoi inching towards common sense.