COME ON DOWN
1st June 1985
Page 37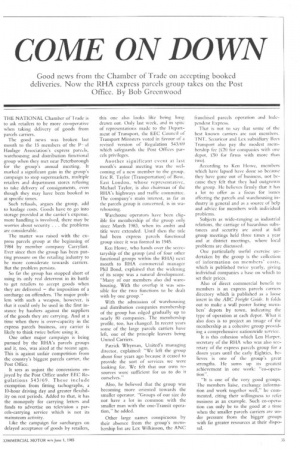 Page 37, 1st June 1985 —
COME ON DOWN
Close
Good news from the Chamber of Trade on accepting booked deliveries. Now the RHA express parcels group takes on the Post Office. By Bob Greenwood
THE NATIONAL Chamber of Trade is to ask retailers to be more co-operative when taking delivery of goods from parcels carriers.
The good news was broken last month to the 15 members of the P id Haulage Association's express parcds, warehousing and distribution functional group when they met near Peterborough for the group's annual meeting. It marked a significant gain in the group's campaign to stop supermarkets, multiple retailers and department stores refusing to take delivery of consignments, even though they may have been booked in at specific times.
Such refusals, argues the group, add to haulage costs. Goods have to go into storage provided at the carrier's expense, more handling is involved, there may be worries about security . . . the problems are considerable.
The matter was raised with the express parcels group at the beginning of 1984 by member company Carrylast. Ever since then the group has been putting pressure on the retailing industry to he more considerate towards carriers. But the problem persists.
So far the group has stopped short of using its only real deterrent in its battle to get retailers to accept goods when they are delivered — the imposition of a surcharge on offenders. The major problem with such a weapon, however, is that it could only he used in the first instance by hauliers against the suppliers of the goods they are carrying. And at a time when there is over-capacity in the express parcels business, any carrier is likely to think twice before using it.
One other major campaign is being pursued by the RHA's parcels groups and it, too, was aired at the recent agm. This is against unfair competition from the country's biggest parcels carrier, the Post Office.
It sees as unjust the concessions enjoyed by the Post Office under EEC Regulations 543/69. These include exemption from fitting tachographs, a 10-hour driving day and greater flexibility on rest periods. Added to that, it has the monopoly for carrying letters and funds to advertise on television a parcels-carrying service which is not its mainsteam activity.
Like the campaign for surcharges on delayed acceptance of goods by retailers, this one also looks like being long drawn out. Only last week, and in spite of representations made to the Department of Transport, the EEC Council of Transport Ministers voted in favour of a revised version of Regulation 543/69 which safeguards the Post Offices parcels privileges.
Another significant event at last month's annual meeting was the welcoming of a new member to the group, Eric R. Taylor (Transportation) of Bow, East London, whose representative, Michael Taylor, is also chairman of the RHA's highways and traffic committee. The company's main interest, as far as the parcels group is concerned, is in warehousing_ Warehouse operators have been eligible for membership of the group only since March 1983, when its ambit and title were extended. Until then the title had been express parcels functional group since it was formed in 1945.
Ken Howe, who hands over the secretaryship of the group (and of four other functional groups within the RHA) next month to RHA commercial manager Phil Bond, explained that the widening of its scope was a natural development_ "Many of our members also did warehousing. With the overlap it was sensible for the two functions to he dealt with by one group."
With the admission of warehousing and distribution companies membership of the group has edged gradually up to nearly 80 companies. The membership profile, too, has changed. In recent years some of the large parcels carriers have left, one of the principle leavers being United Carriers.
Patrick Whyman, United's managing director, explained: "We left the group about four years ago because it ceased to provide the sort of services we were looking for. We felt that our own resources were sufficient for us to do it ourselves."
Also, he believed that the group was becoming more oriented towards the smaller operator. "Groups of our size do not have a lot in common with the smaller man with the one-Transit operation," he added.
Other large names conspicuous by their absence from the group's meinb:.rship list arc Lex Wilkinson, the ANC franchised parcels operation and Independent Express.
That is not to say that some of the best known carriers are not members. TNT, Securicor and Lex subsidiary Bees Transport also pay the modest membership fee (0(> for companies with one depot, A.:50 for firms with more than two).
According to Ken Howe, members which have lapsed have done so because they have gone out of business, not because they felt that they had outgrown the group. He believes firmly that it has a lot to offer as a focus for issues affecting the parcels and warehousing industry in general and as a source of help and advice for members with individual problems.
Subjects as wide-ranging as industrial relations, the carriage of hazardous substances and security are aired at full group meetings held three times a year and at district meetings, where local problems are discussed.
One particularly useful exercise undertaken by the group is the collection of information on members' costs, which is published twice yearly, giving individual companies a base on which to set their prices.
Also of direct commercial benefit to members is an express parcels carriers directory which is published as a loose insert in the ABC Freight Guide. It folds out to make a wall poster listing members' depots by town, indicating the type of operation at each depot. What it also does is to project an image of the membership as a cohesive group providing a comprehensive nationwide service.
It is this cohesion which Len Harper, secretary of the RHA who was also secretary of the express parcels group for a dozen years until the early Eighties, believes is one of the group's great strengths. He sums up its greatest achievement in one work: "co-operation".
"It is one of the very good groups. The members liaise, exchange information and work together well," he commented, citing their willingness to refer nusiness as an example. Such co-operation can only be to the good at a time when the smaller parcels carriers are under pressure from the bigger groups with far greater resources at their disposal.