BIRD'S-EYE VIEW
1st June 1985
Page 35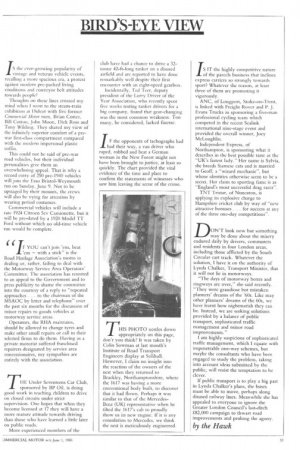 Page 35, 1st June 1985 —
BIRD'S-EYE VIEW
Close
iS the ever-growing popularity of vintage and veteran vehicle events, recalling a more spacious era, a protest against modern pre-packed living conditions and conveyor belt attitudes towards people?
Thoughts on these lines crossed my mind when 1 went to the steam-train exhibition at Didcot with five former Commercial Motor men, Brian Cottee, Bill Cotton, John Moon, Dick Ross and Tony Wilding. They shared my view of the infinitely superior comfort of a prewar first-class compartment compared with the modern impersonal plastic coffin.
This could not be said of pre-war road vehicles, but their individual personalities give them an overwhelming appeal. That is why a record entry of 250 pre-1940 vehicles will join the Esso Bristol-Weymouth run on Sunday, June 9. Not to be upstaged by their mounts, the crews will also be vying for attention by wearing period costumes.
Commercial vehicles will include a rare 1924 Citroen 5cv Camionctte, but it will be pre-dated by a 1920 Model Ti' Ford without which no old-time vehicle run would be complete.
iF YOU can't join 'em, beat em — with a stick" is the Road Haulage Association's motto in dealing or, rather, failing to deal with the Motorway Service Area Operators' Committee. The association has resorted to an appeal to the Government and to press publicity to shame the committee into the courtesy of a reply to "repeated approaches . . . to the chairman of the MSAOC by letter and telephone" over the past six months for the discussion of minor repairs to goods vehicles at motorway service areas.
Operators, the RHA maintains, should be allowed to change tyres and make other small repairs or call in their selected firms to do them. flaying as a private motorist suffered franchised repairers designated by service area concessionaires, my sympathies are entirely with the association.
yHE Under Seventeens Car Club, sponsored by BP Oil, is doing good work in teaching children to drive on closed circuits under strict supervision. One hopes that when they become licensed at 17 they will have a more mature attitude towards driving than those who have learned a little later on public roads.
More experienced members of the club have had a chance to drive a 32tonne 42-ft-long tanker on a disused airfield and are reported to have done remarkably well despite their first encounter with an eight-speed gearbox.
Incidentally, Ted Teer, deputy president of the Lorry I)river of the Year Association, who recently spent five weeks testing tanker drivers for a big company, found that gear-changing was the most common weakness. Too many, he considered, lacked finesse.
IF the opponents of tachographs had had their way, a van driver who raped, robbed and beat a German woman in the New Forest might not have been brought to justice, at least so quickly. The chart provided the vital evidence of the time and place to confirm the statements of witnesses who saw him leaving the scene of the crime.
THIS PHOTO nestles down
appropriately on this page, don't you think? It was taken by Cohn Sowman at last month's Institute of Road Transport Engineers display at Solihull. However, I claim no insight into the reaction of the owners of the nest when they returned to Brackley, Northamptonshire, where the 1617 was having a more conventional body built, to discover that it had flown. Perhaps it was similar to that of the MercedesBenz (UK) representative when he tilted the 1617's cab to proudly show us its new engine. If it is any consolation to Mercedes, we think the nest is meticulously engineered.
iS IT the highly competitive nature of the parcels business that inclines express carriers so strongly towards sport? Whatever the reason, at least three of them are promoting it vigorously.
ANC, of Longport, Stoke-on-Trent, is linked with Freight Rover and P. J. Evans Trucks in sponsoring a five-man professional cycling team which competed in the recent Sealink international nine-stage event and provided the overall winner, Joey McLoughlin.
Independent Express, of Northampton, is sponsoring what it describes in the best possible taste as the "UK's fastest lady." Her name is Sylvia, she breeds Siamese cats and is married to Geoff, a "wizard mechanic", but whose identities otherwise seem to be a secret. Her claim to sporting fame is as "England's most successful drag racer".
TNT Tristar, of Nuneaton, is applying its explosive charge to Hampshire cricket club by way of "new attractive bonuses . . . for success at any of the three one-day competitions".
DON'T look now but something may be done about the misery endured daily by drivers, commuters and residents in four London areas, including those afflicted by the South Circular cart track. Whatever the solution, I have it on the authority of Lynda Chalker, Transport Minister, that it will not lie in motorways.
"The days of motorway boxes and ringways are over," she said recently. "They were grandiose but mistaken planners' dreams of the '60s. Like may other planners' dreams of the 60s, we have learnt how nightmarish they can be. Instead, we are seeking solutions provided by a balance of public transport, sophisticated traffic management and minor road improvements."
I am highly suspicious of sophisticated traffic management, which I equate with impenetrable one-way schemes, but maybe the consultants who have been engaged to study the problem, taking into account ideas submitted by the public, will resist the temptation to be clever.
If public transport is to play a big part in Lynda Chalker's plans, the buses must be able to move, perhaps along disused railway lines. Meanwhile she has appealed to everyone to ignore the Greater London Council's last-ditch £82,000 campaign to thwart road improvements and prolong the agony.
by the Hawk