CONCLUSIONS
1st June 1985
Page 31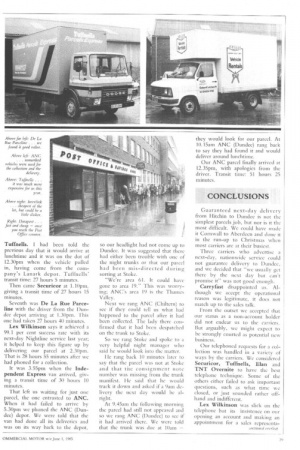 Page 32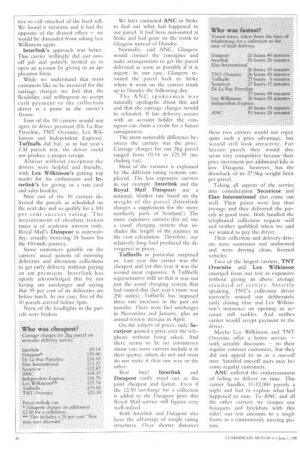 Page 31, 1st June 1985 —
CONCLUSIONS
Close
Guaranteed next-day delivery from Hitchin to Dundee is not the simplest parcels job, but nor is it the most difficult. We could have made it Cornwall to Aberdeen and done it in the run-up to Christmas when most carriers arc at their busiest.
Three carriers who advertise a next-day, nationwide service could not guarantee delivery to Dundee,. and we decided that "we usually get there by the next day but can't promise it" was not good enough.
Carryfast disappointed us. Although we accept the operational reason was legitimate, it does not match up to the sales talk.
From the outset we accepted that our status as a non-account holder did not endear us to the carriers. But arguably, we might expect to be strongly courted as potential new business.
Our telephoned requests for a collection was handled in a variety of ways by the carriers. We considered Securicor, Tuffnells, Elan and TNT Overnite to have the best telephone technique. Some of the others either failed to ask important questions, such as what time we closed, or just sounded rather offhand and indifferent.
Lex Wilkinson was slick on the telephone but its insistence on our opening an account and making an appointment for a sales representa tive to call smacked of the hard sell. We found it tiresome and it had the opposite of the desired effect — we would be dissuaded from asking Lex Wilkinson again.
Interlink's approach was better. This carrier willingly did our oneoff job and politely invited us to open an account by giving us an application form.
While we understand that most customers like to be invoiced for the carriage charges we feel that the flexibility and willingness to accept cash payment to the collection driver is a point in the carrier's favour.
Four of the 10 carriers would not agree to driver payment (De La Rue Parceline, TNT Overnite, Lex Wilkinson and Independent Express). Tuffnalls did but, as in last year's CM parcels test, the driver could not produce a proper receipt.
Almost without exception the drivers were helpful and friendly, with Lex Wilkinson's getting top marks for his enthusiasm and Interlink's for giving us a rate card and sales booklet.
Nine out of the 10 carriers delivered the parcels as scheduled on the next day and so qualify for a 100 per cent success rating. The measurement of absolute transit times is of academic interest only. Royal Mail's Datapost is noteworthy, actually bettering 24 hours for the 410-mile journey.
Some customers gamble on the carriers' usual pattern of morning deliveries and afternoon collections to get early delivery without paying an am premium. Interlink has openly acknowledged this by not having am surcharges and saying that 95 per cent of its deliveries are before lunch. In our case, five of the 10 parcels arrived before lpm.
None of the headlights in the parcels were broken. We later contacted ANC in Stoke to find out what had happened to our parcel. It had been mis-sorted at Stoke and had gone on the trunk to Glasgow instead of Dundee.
Normally, said ANC, Glasgow would contact the consignee and make arrangements to get the parcel delivered as soon as possible if it is urgent. In our case, Glasgow rerouted the parcel back to Stoke where it went on the correct trunk up to Dundee the following day.
The ANC spokesman was naturally apologetic about this and said that the carriage charges would be refunded. If late delivery occurs with an account holder the consignor can claim a credit for a future consignment.
The most noticeable difference between the carriers was the price. Carriage charges for our 2kg parcel ranged from £9.14 to 01,39 (including vat).
Most of the variance is explained by the different rating systems employed. The less expensive carriers in our example (Interlink and the Royal Mail Datapost) use a national, blanket rate based on the weight of the parcel (Interlink charges a supplement for the more northerly parts of Scotland.) The more expensive carriers (for us) USC 3 zonal charging system that includes the length of the journey in the cost calculation. Therefore, our relatively long haul produced the divergence in prices.
Tuffnells in particular surprised us. Last year this carrier was the cheapest and yet this year it was the second most expensive. A Tuffnells representative told us that it was not just the zonal charging system that had caused this (last year's route was 250 miles); Tuffnells has imposed three rate increases in the past six months. There were fuel surcharges in November and January, plus an annual review increase in April.
On the subject of prices, only Securicor quoted a price over the telephone without being asked. And there seems to be no consistency about vat; some carriers include it in their quotes, others do not and most do not make it clear one way or the other.
Best buy? Interlink and Datapost easily stand out as the joint cheapest and fastest. Even if the £2.50 surcharge for a collection is added to the Datapost price this Royal Mail service still figures very well indeed.
Both Interlink and Datapost also have the advantage of simple rating structures. Over shorter distances these two carriers would not enjoy quite such a price advantage, but would still look attractive. For heavier parcels they would also seem very competitive because their price increment per additional kilo is low. Datapost, however, has the drawback of its 27.5kg weight limit per parcel.
Taking all aspects of the service into consideration Securicor and Elan International also come out well. Their prices were less than average and they delivered the parcels in good time. Both handled the telephoned collection request well and neither quibbled when we said we wanted to pay the driver.
Their collection and delivery drivers were courteous and uniformed and were driving clean, liveried vehicles.
Two of the largest carriers, TNT Overnite and Lex Wilkinson emerged from our test as expensive without giving an above average standard of service. Strictly speaking, TNT's collection driver narrowly missed our deliberately early closing time and Lex Wilkinson's insistence on opening an account still rankles. And neither carrier would accept payment to the driver.
Maybe Lex Wilkinson and TNT Overnite offer a better service — with sizeable discounts — to their regular contract customers, but they did not appeal to us as a one-off user. Satisfied one-off users may become regular customers.
ANC suffered the embarrassment of failing to deliver on time. This carrier handles 11-12,000 parcels a night and had to explain what had happened to ours. To ANC and all the other carriers we temper our bouquets and brickbats with this rider: our test amounts to a single frame in a continuously moving picture.