THE DELIVERIES
1st June 1985
Page 30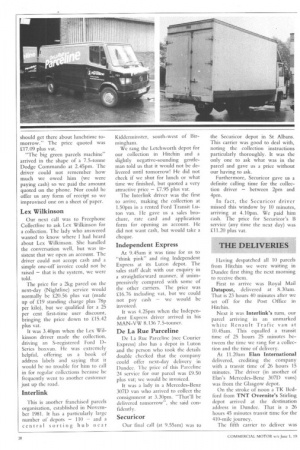 Page 31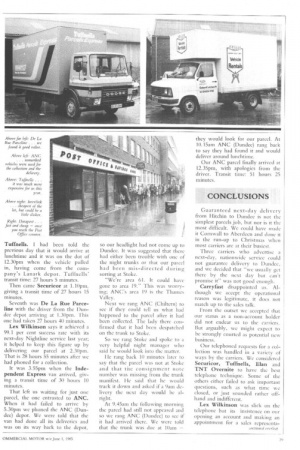 Page 30, 1st June 1985 —
THE DELIVERIES
Close
Having despatched all 10 parcels from Hitchin we were waiting in Dundee first thing the next morning to receive them.
First to arrive was Royal Mail Datapost, delivered at 8.30am. That is 23 hours 40 minutes after we set off for the Post Office in Hitchin.
Next it was Interlink's turn, our parcel arriving in an unmarked white Renault Trafic van at 10.45am. This equalled a transit time of 25 hours 25 minutes between the time we rang for a collection and the time of delivery.
At 11.20am Elan International delivered, crediting the company with a transit time of 26 hours 15 minutes. The driver (in another of Elan's Mercedes-Benz 307D vans) was from the Glasgow depot.
On the stroke of noon a TK Bedford from TNT Overnite's Stirling depot arrived at the destination address in Dundee. That is a 26 hours 45 minutes transit time for the 410-mile journey.
The fifth carrier to deliver was Tuffnells. I had been told the previous day that it would arrive at lunchtime and it was on the dot of 12.30pm when the vehicle pulled in, having come from the company's Lanark depot. Tuffnells' transit time: 27 hours 5 minutes.
Then came Securicor at 1.10pm, giving a transit time of 27 hours 15 minutes.
Seventh was De La Rue Parceline with the driver from the Dundee depot arriving at 1.30pm. This one had taken 27 hours 40 minutes.
Lex Wilkinson says it achieved a 99,1 per cent success rate with its next-day Nightline service last year; it helped to keep this figure up by delivering our parcel at 2.30pm. That is 28 hours 55 minutes after we had phoned for a collection.
It was 3.55pm when the Independent Express van arrived, giving a transit time of 30 hours 10 minutes.
That left us waiting for just one parcel, the one entrusted to ANC. When it had failed to arrive by 5.30pm we phoned the ANC (Dundee) depot. We were told that the van had done all its deliveries and was on its way back to the depot, so our headlight had not come up to Dundee. It was suggested that there had either been trouble with one of the night trunks or that our parcel had been mis-directed during sorting at Stoke.
"We're area 61. It could have gone to area 19." This was worrying; ANC's area 19 is the Thames Valley.
Next we rang ANC (Chiltern) to see if they could tell us what had happened to the parcel after it had been collected. The lady there confirmed that it had been despatched on the trunk to Stoke.
So we rang Stoke and spoke to a very helpful night manager who said he would look into the matter.
He rang back 10 minutes later to say that the parcel was not at Stoke and that the consignment note number was missing from the trunk manifest. Ile said that he would track it down and asked if a 9am delivery the next day would be alright.
At 9.45am the following morning the parcel had still not appeared and so we rang ANC (Dundee) to see if it had arrived there. We were told that the trunk was due at 10am — they would look for our parcel. At 10.15am ANC (Dundee) rang back to say they had found it and would deliver around lunchtime.
Our ANC parcel finally arrived at 12.35pm, with apologies from the driver. Transit time: 51 hours 25 minutes.