THE COLLECTIONS
1st June 1985
Page 27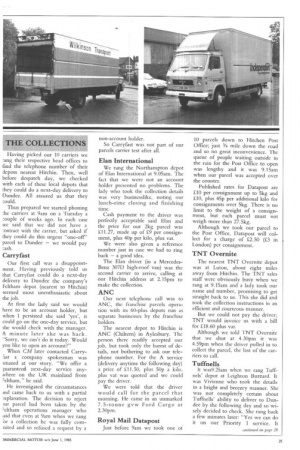 Page 30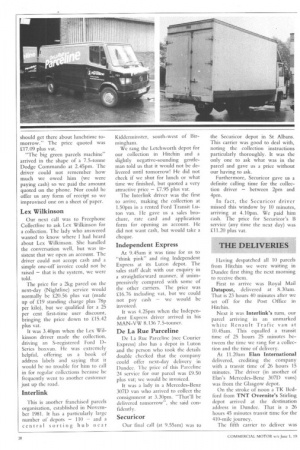 Page 27, 1st June 1985 —
THE COLLECTIONS
Close
Having picked our 10 carriers we rang their respective head offices to find the telephone number of their depots nearest Hitchin, Then, well before despatch day, we checked with each of these local depots that they could do a next-day delivery to Dundee. All assured us that they could.
Thus prepared we started phoning :he carriers at 9am on a Tuesday a :ouple of weeks ago. In each case we said that we did not have a :ontract with the carrier, but asked if they could do this urgent "one-off" parcel to Dundee — we would pay :ash.
Carryfast Our first call was a disappointment. Having previously told us that Carryfast could do a next-day delivery to Dundee the company's Feltham depot (nearest to Hitchin) seemed most unenthusiastic about the job.
At first the lady said we would have to be an account holder, but when I persisted she said 'yes', it could go on the one-day service, but she would check with the manager. A minute later she was back. 'Sorry, we can't do it today. Would you like to open an account?"
When CM later contacted Carry:ast a company spokesman was imazed at our story. "We offer a 4uaranteed next-day service anywhere on the UK mainland from :eltham," he said.
He investigated the circumstances ind came back to us with a partial :xplanation. The decision to reject )ur parcel had been taken by the :eltham operations manager who ;aid that even at 9am when we rang -or a collection he was fully comnited and so refused a request by a non-account holder.
So Carryfast was not part of our parcels carrier test after all.
Elan International
We rang the Northampton depot of Elan International at 9.05am. The fact that we were not an account holder presented no problems. The lady who took the collection details was very businesslike, noting our lunch-time closing and finishing time.
Cash payment to the driver was perfectly acceptable said Elan and the price for our 2kg parcel was £11.27, made up of £9 per consignment, plus 40p per kilo, plus vat.
We were also given a reference number just in case we had to ring back — a good idea.
The Elan driver (in a MercedesBenz 307D high-roof van) was the second carrier to arrive, calling at our Hitchin address at 2.15pm to make the collection.
• ANC
Our next telephone call was to ANC, the franchise parcels operation with its 60-plus depots run as separate businesses by the franchise holders.
The nearest depot to Hitchin is ANC (Chiltern) in Aylesbury. The person there readily accepted our job, but took only the barest of details, not bothering to ask our telephone number. For the A service (delivery anytime the following day) a price of £11.50, plus 50p a kilo, plus vat was quoted and we could pay the driver.
We were told that the driver would call for the parcel that morning. He came in an unmarked 7.5-tonne gvw Ford Cargo at 2.30pm.
Royal Mail Datapost
Just before 9am we took one of 10 parcels down to Hitchen Post Office; just -3/4 mile down the road and so no great inconvenience. The queue of people waiting outside in the rain for the Post Office to open was lengthy and it was 9.15am when our parcel was accepted over the counter.
Published rates for Datapost are £10 per consignment up to 5kg and £10, plus 45p per additional kilo for consignments over 5kg. There is no limit to the weight of a consignment, but each parcel must not weigh more than 27.5kg.
Although we took our parcel to the Post Office, Datapost will collect for a charge of £2.50 (£3 in London) per consignment.
TNT Overnite
The nearest TNT Overnite depot was at Luton, about eight miles away from Hitchin. The TNT sales staff were obviously busy when we rang at 9.15am and a lady took our name and number, promising to get straight back to us. This she did and took the collection instructions in an efficient and courteous manner.
But we could not pay the driver; TNT would invoice us with a bill for £18.60 plus vat.
Although we told TNT Overnite that we shut at 4.30pm it was 4.59pm when the driver pulled in to collect the parcel, the last of the carriers to call.
Tuffnells
It was9.25am when we rang Tuffnels' depot at Leighton Buzzard. It was Vivienne who took the details in a bright and breezey manner. She was not completely certain about Tuffnells' ability to deliver to Dundee by the following day and so wisely decided to check. She rang back a few minutes later: "Yes we can do it on our Priority 1 service. It should get there about lunchtime tomorrow." The price quoted was £17.09 plus vat.
"The big green parcels machine" arrived in the shape of a 7.5-tonne Dodge Commando at 2.45pm. The driver could not remember how much we owed him (we were paying cash) so we paid the amount quoted on the phone. Nor could he offer us any form of receipt so we improvised one on a sheet of paper.
Lex Wilkinson
Our next call was to Frecphone Collectline to ask Lex Wilkinson for a collection. The lady who answered wanted to know where I had heard about Lex Wilkinson. She handled the conversation well, but was insistent that we open an account. The driver could not accept cash and a simple one-off invoice could not be raised — that is the system, we were told.
The price for a 2kg parcel on the next-day (Nightline) service would normally be £20.56 plus vat (made up of £19 standing charge plus 78p per kilo), but we qualified for a 25 per cent first-time user discount, bringing the price down to £15.42 plus vat.
It was 3.40pm when the Lex Wilkinson driver made the collection, driving an S-registered Ford 1)Series boxvan. He was extremely helpful, offering us a book of address labels and saying that it would be no trouble for him to call in for regular collections because he frequently went to another customer just up the road.
Interlink
This is another franchised parcels organisation, established in November 1981. ft has a particularly large number of depots — 110 — and a central sorting hub near Kidderminster, south-west of Birmingham.
We rang the Letchworth depot for our collection in Hitchin and a slightly negative-sounding gentleman told us that it would not be delivered until tomorrow! He did not check if we shut for lunch or what time we finished, but quoted a very attractive price — £7.95 plus vat.
The Interlink driver was the first to arrive, making the collection at 1.50pm in a rented Ford Transit Luton van. He gave us a sales brochure, rate card and application form for opening an account. He did not want cash, but would take a cheque.
Independent Express
At 9.45am it was time for us to "think pink" and ring Independent Express at its Luton depot. The sales staff dealt with our enquiry in a straightforward manner, if unimpressively compared with some of the other carriers. The price was £16.76 including vat, but we could not pay cash — we would be invoiced.
It was 4.25pm when the Independent Express driver arrived in his MAN-VW 8.136 7.5-tonner.
De La Rue Parceline
De La Rue Parcelinc (nee Courier Express) also has a depot in Luton and the person who took the details double checked that the company could offer next-day delivery in Dundee. The price of this Parceline 24 service for our parcel was £9.50 plus vat; we would be invoiced.
It was a lady in a Mercedes-Benz 307D van who arrived to collect the consignment at 3.30prn. "That'll be delivered tomorrow", she said confidently.
Securicor
Our final call (at 9.55am) was to the Securicor depot in St Albans. This carrier was good to deal with, noting the 'collection instructions particularly thoroughly. It was the only one to ask what was in the parcel and gave us a price without our having to ask.
Furthermore, Securicor gave us a definite calling time for the collection driver — between 2pm and 4pm.
In fact, the Securicor driver missed this window by 10 minutes, arriving at 4.10pm. We paid him cash. The price for Securicor's B service (any time the next day) was £11.20 plus vat.