EXPRESS PARCELS
1st June 1985
Page 25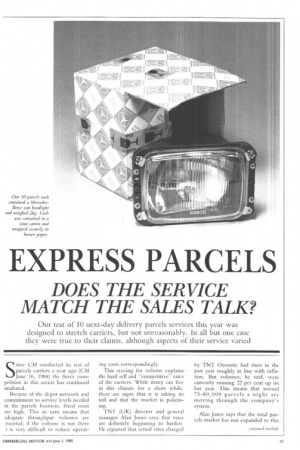 Page 26
Page 25, 1st June 1985 —
EXPRESS PARCELS
Close
DOES THE SERVICE MATCH THE SALES TALK?
Our test of 10 next-day delivery parcels services this year was designed to stretch carriers, but not unreasonably. In all but one case they were true to their claims, although aspects of their service varied
Sincc CM conducted its test of parcels carriers a year ago (CM June 16, 1984) the fierce competition in this sector has continued unabated.
Because of the depot network and commitment to service levels needed in the parcels busineSs, fixed costs are high. This in turn means that adequate throughput volumes are :ssential; if the volume is not there t is very difficult to reduce operat ing costs correspondingly.
This craving for volume explains the hard sell and "competitive" rates of the carriers. While many can live in this climate for a short while, there are signs that it is taking its toll and that the market is polarising.
TNT (UK) director and general manager Alan Jones says that rates are definitely beginning to harden. He reported that actual rates charged by TNT Overnite had risen in the past year roughly in line with inflation. But volumes, he said, were currently running 22 per cent up on last year. This means that around 75-80,00() parcels a night are moving through the company's system.
Alan Jones says that the total parcels market has not expanded to this degree and so reasons that TNT Overnite has won business from the other carriers.
While some carriers are clearly operating profitably (United Parcels reported a profit of £7.07m last year) others are not. The two National Freight Consortium parcels companies are giving the NEC problems. Roadline lost £4.6m in 1983/84 and National Carriers Parcels lost £3.6m.
The NFC has made it clear that if the re-structuring and cut-backs being made in the two companies do not bring an improvement in this gloomy financial picture, Roadline or National Carriers Parcels could disappear next year.
Independent Express, partlyowned by the Transport Development Group, lost £1.95m last year and is taking longer than expected to reach profitability.
And Lex Wilkinson has asked employees to defer this year's wage and salary review until next February as part of a package of measures designed to achieve "an acceptable level of profit in 1985".
It was against this turbulent background that CM has repeated its test of the parcels carriers.
Like last year, it is the carriers' next-day services that we examined by despatching 10 similar parcels from the same point to the same address.
Each would travel via a different carrier. Would they all arrive the next day as promised/guaranteed? Would they all be undamaged? How much would the carriage charges vary? And which carrier would be best to deal with?
Last year's route was a 400km (250 mile) journey from South Lon don to North Yorkshire and seven out of 10 parcels arrived on the next day and intact.
This year we made it a little tougher. Our route was 660km (410 miles) from Hitchin in Hertfordshire to Dundee on Tayside. Dundee was carefully chosen. Some carriers will not extend their next-day delivery promise into northern Scotland and so Dundee is getting towards the limit of their overnight capability.
Careful not to give away our identity, we despatched the parcels from a distribution depot in Hitchin. Each of our 10 parcels was a headlight unit kindly loaned to us by Mercedes-Benz. It was from the Bremen range of vans and measured 28x27x20cm (11x101/2X8in). It weighed a shade under 2kg (4.41bs).
Most of the carriers say that they often carry urgently-needed spare parts and so ours was a perfectly plausible parcel. Mercedes-Benz, in fact, does not use carriers, instead operating its own spare parts distribution fleet which handles both scheduled and VOR (vehicle off road) spares deliveries to the dealers.