GRADED LORRIES MEAN FINER TREATMENT
1st June 1985
Page 23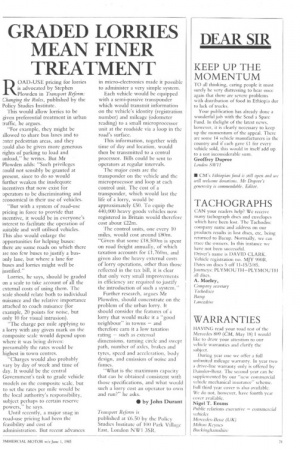 Page 23, 1st June 1985 —
GRADED LORRIES MEAN FINER TREATMENT
Close
ROAD-USE pricing for lorries is advocated by Stephen Plowden in Transport Reform: Changing the Rules, published by the Policy Studies Institute.
This would allow lorries to be given preferential treatment in urban traffic, he argues.
"For example, they might be allowed to share bus lanes and to enter pedestrian areas, and they could also be given more generous rights of parking to load and unload," he writes. But Mr . Plowden adds: "Such privileges could not sensibly be granted at present, since to do so would further weaken the inadequate incentives that now exist for operators to be discriminating and economical in their use of vehicles.
"But with a system of road-use pricing in force to provide that incentive, it would be in everyone's interest to facilitate the operation of suitable and well utilised vehicles. This also would enlarge the opportunities for helping buses: there are some roads on which there are too few buses to justify a busonly lane, but where a lane for buses and lorries might well be justified."
Lorries, he says, should be graded on a scale to take account of all the external costs of using them. The scale should relate both to individual nuisance and the relative importance attached to coach nuisance (for example, 20 points for noise, but only 10 for visual intrusion).
-The charge per mile applying to a lorry with any given mark on the composite scale would depend upon where it was being driven: presumably the rates would be highest in town centres.
"Charges would also probably vary by day of week and time of day. It would be the central Government's task to grade vehicle models on the composite scale, but to set the rates per mile would be the local authority's responsibility, subject perhaps to certain reserve powers," he says.
Until recently, a major snag in road-use pricing had been the feasibility and cost of administration. But recent advances in micro-electronics made it possible to administer a very simple system.
Each vehicle would be equipped with a semi-passive transponder which would transmit information on the vehicle's identity (registration number) and mileage (odometer reading) to a small microprocessor unit at the roadside via a loop in the road's surface.
This information, together with time of day and location, would then be transmitted to a central processor. Bills could be sent to operators at regular intervals.
The major costs are the transponder on the vehicle and the microprocessor and loop at each control unit. The cost of a transponder, which would last the life of a lorry, would be approximately £50. To equip the 440,000 heavy goods vehicles now registered in Britain would therefore cost about £22m.
The control units, one every 10 miles, would cost around A:80m. "Given that some i218,500m is spent on road freight annually, of which taxation accounts for £1,760m, and given also the heavy external costs. of lorry operations, other than those reflected in the tax bill, it is clear that only very small improvements in efficiency are required to justify the introduction of such a system."
Further research, argues Mr Plowden, should concentrate on the problem of the urban lorry. It should consider the features of a lorry that would make it a "good neighbour" in towns — and therefore earn it a low taxation rating — such as external dimensions, turning circle and swept path, number of axles, brakes and tyres, speed and acceleration, body design, and emission of noise and fumes.
"What is the maximum capacity that can be obtained consistent with those specifications, and what would such a lorry cost an operator to own and run?" he asks.
* by John Durant