DEAR SIR
1st June 1985
Page 23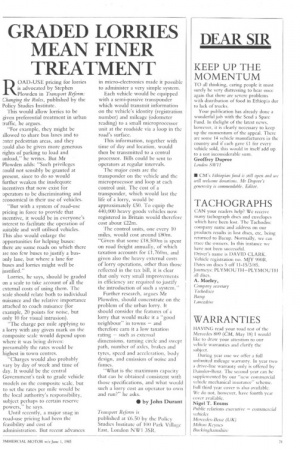 Page 23, 1st June 1985 —
DEAR SIR
Close
KEEP UP THE MOMENTUM
TO all thinking, caring people it must surely be very distressing to hear once again that there are severe problems with distribution of food in Ethiopia dur to lack of trucks.
Your publication has already done a wonderful joh with the Send a Sparc Fund. In thelight of the latest news, however, it is clearly necessary to keep up the momentum of the appeal. There are some 14 vehicle manufacturers in the
country and if each gave for every vehicle sold, this would in itself add up to a not inconsiderable. sum.
Geoffrey Dupree
London SW11 • CM's Ethiopian fund is still open and we will welcome donations. Mr Dupree's generosity is commendable. Editor.
TACHOGRAPHS
CAN your readers help? We receive many tachograph discs and envelopes which have been lost. The Tachodisc company name and address on our products results in lost discs, etc, being returned to Bacup. Normally, we can trace the owners. In this instance we have not been successful.
Driver's name is DAVID CLARK. Vehicle registration no. MJY 900R. Dates on discs 5 off 11-15/3/85. Journeys: PLYMOUTH—PLYMOUTH all discs.
A. Morley, Company secretary
"1'achodisco Bacup 1.ancashire
WARRANTIES
HAVING read your road test of the Mercedes 809 (CM, May 18) I would like to draw your attention to our vehicle warranties and clarify the subject.
During year one we offer a full unlimited mileage warranty. In year two a drive-line warranty only is offered by Dainder-Henz. The second year can be supplemented by our "new commercial vehicle mechanical insurance" scheme. Full third year cover is also available. Wu do not, however, have fourth year cover available.
Nigel T. Emms
Public relations executive — commercial vehicles Mercedes-Benz (UK) Milton Keynes Buckinghamshire