Happy uncoupling by VBG
1st June 1985
Page 20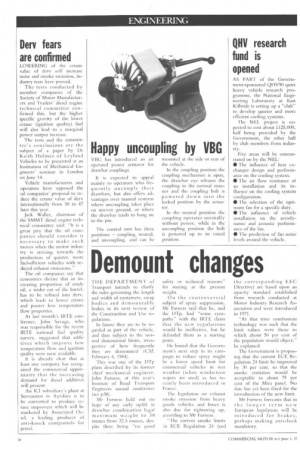 Page 20, 1st June 1985 —
Happy uncoupling by VBG
Close
VEG has introduced an air operated power actuator for drawbar couplings.
It is expected to appeal mainly to operators who freq u en tly uncouple their drawbars, but also offers advantages over manual systems where uncoupling takes place on uneven ground, or where the drawbar tends to hang on to the pin.
The control unit has three positions — coupling, neutral, and uncoupling, and can be mounted at the side or rear of the vehicle.
In the coupling position the coupling mechanism is open, the drawbar eye releases the coupling in the normal manner and the coupling bolt is powered down into the locked position by the actuator.
In the neutral position the coupling operates normally without power, while in the unc:oupling position the bolt is powered up to its raised position.